As some of my followers on social media will know, I recently had Bridge Road Brewers Hazy Bling. In my comment accompanying the picture, I confessed how writing about this beer caused me to reflect on my relationship with its older sibling, Bling. Far too much for a mere Instagram post, this article is a love letter to my epiphany beer, Bridge Road Brewers Bling India Pale Ale.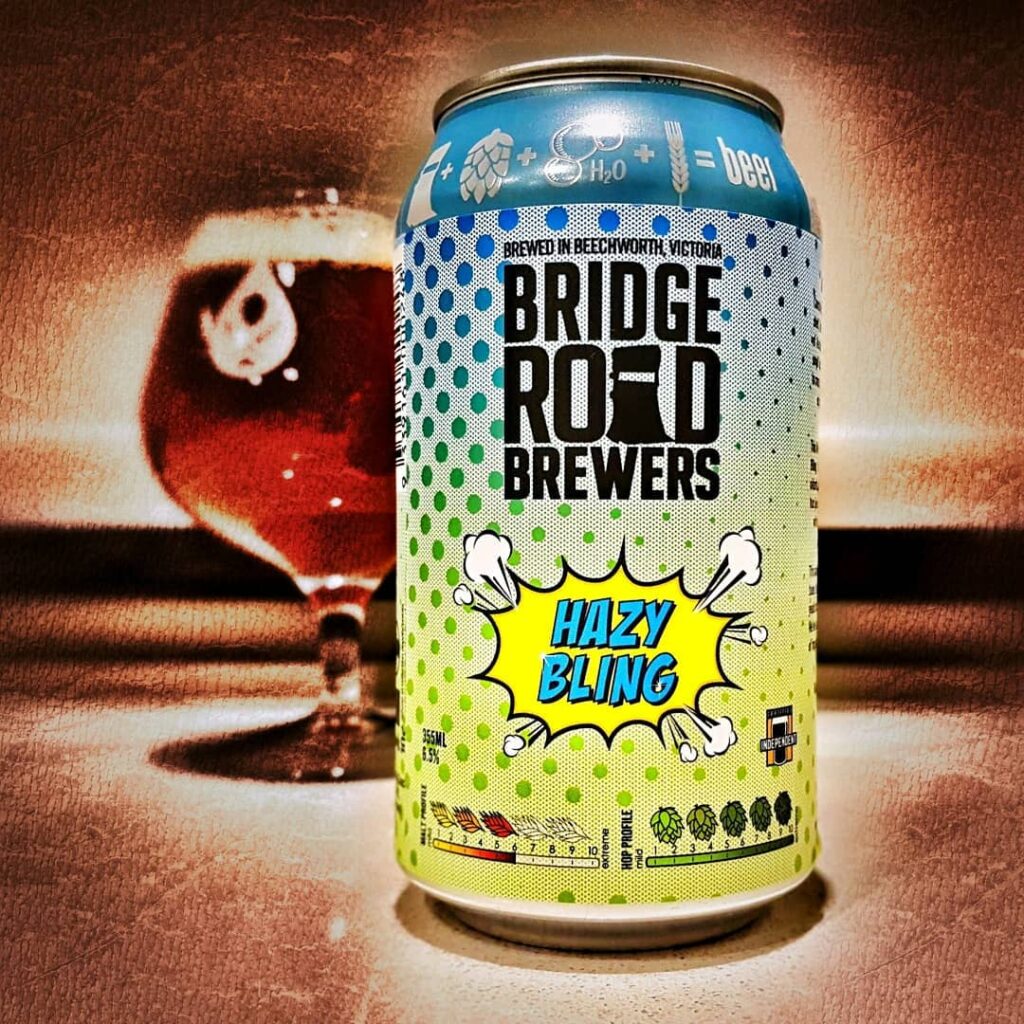 Years before the "haze craze", around the time West Coast IPA was spearheading a resurgence of US craft beer, and similar beers started to appear in the Australian market. A clear, maltier, darker IPA, left a brewhouse in Beechworth. Already known for its award winning Pale Ale, the brewery's new beer more closely resembled a traditional English style IPA. Balancing hops with malt, rather than letting them take center stage, it still maintained enough hop punch to keep the new breed of hop heads happy.
One man who recalls Bling's first appearance in bar fridges and on tap decals, is Pete Mitcham, beer writer and judge, shower-beer detractor and co-host of Australian Brews News podcast. Pete's own beer journey began long before the arrival of Bling. He recalls the Australian beer landscape of the early 1980s. A time where, "a solid diet of mainstream Australian-style Pale Lager in its many differently-labelled-but-all-tastes-the-same format," was the norm. Beer for blokes like Norm.
It was during this time that Pete's introduction to IPA occurred. He describes his encounter with Worthington's White Shield as a, "traditional English beer redolent with those floral and earthy English hops sitting on top of a caramel malt base." He went on, "It was a liquid hug, an introduction to hops and bitterness and, most importantly, different to anything I'd had previously."
Pete notes with regret that the, "sub-style [had] largely vanished from the shelves." It wasn't until the mid 2000s, when a new wave of Australian craft beer began, with breweries such as Hargreaves Hill Brewing Co, 3 Ravens, Red Hill Brewery, Red Duck Beer, and of course Bridge Road Brewers, that Bling appeared.
"Enter, Bling," Pete recalled. "Ben Kraus and the crew at Bridge Road Brewers had been pumping out their flagship Pale Ale along side a suite of specialty farmhouse ales like Bierre De Garde and Saison under the Chevalier label to a small but loyal audience since 2004 but it wasn't until the now familiar IPA hit shelves and taps that a new band of fans would emerge."
"Bling, for me, was a beer that changed the landscape, not by breaking new ground, adding exotic ingredients or by testing the skills of the brewer but by going 'back to the future' and revisiting those malty-hoppy English IPAs."
It wasn't until years later that I had my first encounter with Bling, on a suggestion from my wife, which I'm sure she'll regret till the day she dies. In Bendigo restaurant Rocks on Rosalind's basement, an old bank vault which now has a very exclusive feel, my wife perused the beer menu for me. "Oooh look," she exclaimed. "That one's called Bling," admiring the fun name. Not knowing the monster she was about to create.
I've always kept an open mind when it comes to food and drink. More of a wine drinker at the time, I was however experimenting with the various craft beers available in the supermarket liquor section. A couple stuck with me, Mountain Goat Steam Ale springs to mind, but most weren't that exciting. New, yes. Different, yes. But exciting? No.
Bling changed me.
It's difficult to recall precisely what it was that was so profound, but the explosive tropical, hop flavour was unlike anything I'd had before. The countless craft beers I've sampled since have developed and matured my palate somewhat. I wonder what I'd think if I had Bling for the first time today. Like The Usual Suspects, It's one of those things I'd like to erase my memory and experience again, for the first time.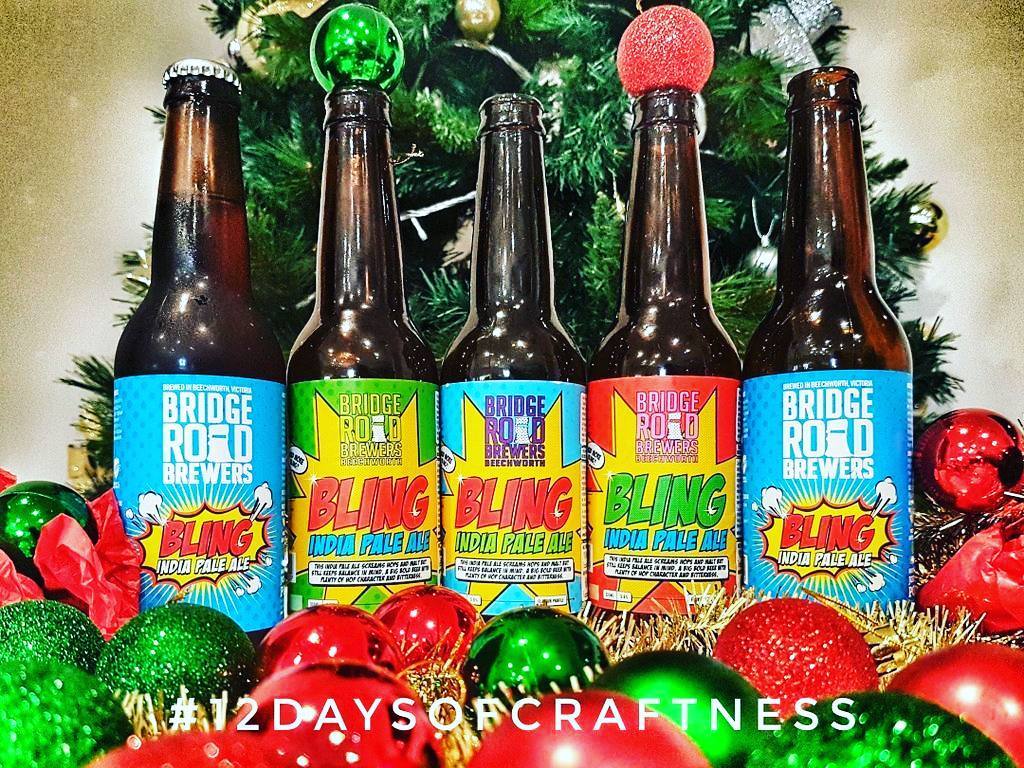 Bling immediately transformed me into an Instagramming, beer sharing, Indie advocating, glass collecting, bank account depleting, beer nerd. The following day I was scouring the Bridge Road Brewers website looking at the plethora of other beers and styles, weighing up whether I was prepared to part with the eighty or so bucks for a case. Those days of indecisiveness when considering the price of beer seem like such a distant memory.
I soon became a member of the Bridge Road Posse and not one Posse delivery I've received to this day has been without a Bling. My first visit to the Beechworth Brewery saw me leave with a whole case, plus a Bling Speiglau pack. I think I was even served by the man himself, Ben Kraus. But back then I was none the wiser. I consider it a missed opportunity.
I'd grown out of the kiddies paddling pool of supermarket and big beer craft brands. Bridge Road was my springboard into the deep end of independent beer and niche craft retailers, with West Coast IPAs, Farmhouse Ales and Imperial Stouts now captivating my imagination. Mosaic was no longer a pretty pattern made from small tiles and Galaxy wasn't something far, far away.
Bling instigated a complete change in my attitude towards beer. Prior to discovering it, I'd attended the first two or three Bendigo On The Hop craft beer festivals, as well as the Ballarat Beer Festival on one occasion. Being more of a social outing back then, I enjoyed the beers on the day, but remembered few, if any, the day after. Such was the metamorphosis triggered by Bridge Road Bling, when I next I attended BOTH, I knew almost every beer on offer days in advance, and every brewery.
It was through BOTH and a love of Bridge Road that I came to know Trev Birks, Chairman of Bendigo Beer. A staunch advocate for independent beer, Trev's romance with Bling also goes back many more years than mine. On more than one occasion he's proudly boasted how his posse member number is double digits. Somewhere in the low teens, I think. Mine's around seven hundred and something.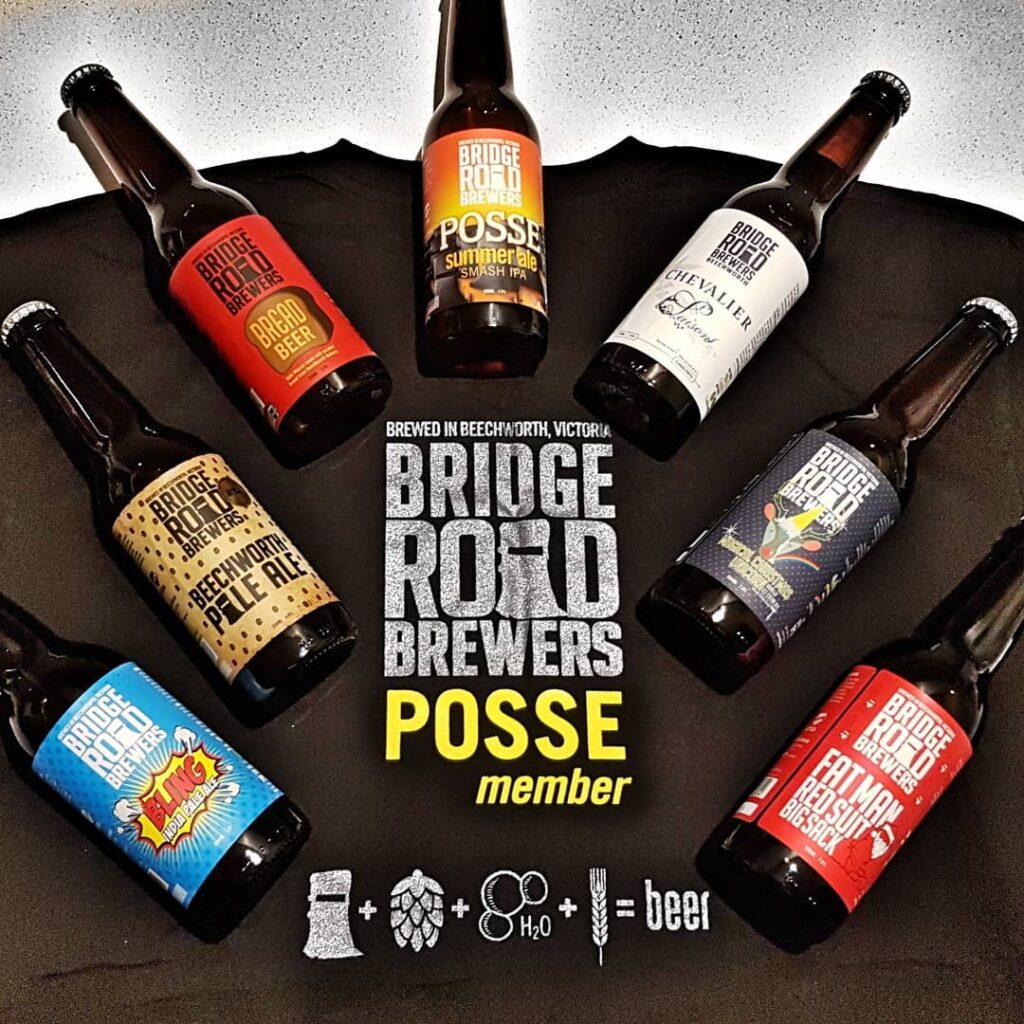 My curiosity about craft beer, but more specifically Bendigo Beer and BOTH, caused me to stumble across Luke Robertson's podcast, Ale Of A Time. The 87th episode was an interview with Trev in the leadup to the 2017 BOTH.
Luke wrote about Bling on his blog back in 2011. I think his first impressions could be fairly surmised as, surprisingly good and worth checking out.
"Definitely not what I expected, but to be honest, it was a really nice surprise. I could definitely see myself going back for more of these and it's another one of the Bridge Road beers that has won me over right away. There is a nice balance of 'new world' and 'old world' flavours in most of their beers and this is no different."
I asked Luke for his thoughts on Bling eight years on.
"It's interesting watching Bling in 2019. It was bigger, maltier style IPA that was just as sweet as it is bitter. I can't say for sure but I feel like it's evolved over the years, or maybe it's just my memory? It certainly doesn't seem as aggressive as it once was, which for my palate, is a great thing. It's still got a chunk of hops in there but the sweetness and malt characters are dialled back."
Ale of a Time helped satiate my thirst for learning all things beer, but it wasn't enough. Many more podcasts found their way onto my phone, educating me on my work commutes and routine walks around the neighborhood.
On the The Chosen Brew podcast, host Ian McNally asks guests to recall the 'six beers that changed everything'. Not only has Bling rated a mention more than once on the show, but the maltier, more 'English' take on IPA is something Ian's more familiar with than most Aussies too.
One of The Chosen Brew's most memorable guests is Emily Day, beer writer and editor of Froth magazine. During her appearance on the show in late 2016, Bling was the first beer she spoke about. Upon the revelation that it was also her epiphany beer, I felt an immediate comradery with this person I'd never met.
"The taste of it was just, like, being like, knocked over by a wave at the ocean. You know when it's just like, so refreshing that, like, 'oh my god what just happened?'"
It was perhaps, unfortunate that the sensation reminded her of the car that had knocked her over some months earlier, but if I understood her correctly, the assault of flavour she experienced from Bling somehow mirrored the accident in a way that signalled her recovery. A profound experience indeed.
When I asked Ian for his thoughts on Bling, he touched on the expansion of the brand.
"Many versions and iterations take advantage of a trusted formula and that trust is in 'Bling'. There is a risk that comes with pushing many variations under one umbrella, as it could confuse and erode trust with a consumer who has specific expectations. But, it's also possible to leverage trust in a brand, and introduce experimental beers into the hands of more conservative consumers."
The strength of the Bling brand has indeed allowed it to grow and evolve. At the time I discovered it, Bridge Road's core low ABV beer, Little Bling, was one of only a small number of mid-strength craft beers on the market. It was heralded by many for sacrificing little flavor in the pursuit of something drinkable in a wider array of activities. Chris Luki, The Beer Healer, sums it up nicely in one of his 60 second beer reviews.
Luke Robertson also confessed to the agreeable nature of Little Bling. "I love that Ben was quick to jump on board the Session IPA bandwagon when things kicked off, by creating Little Bling, which is a beer that really worked for my palate."
But the king of Blings is without a doubt the hoppy, Imperial IPA, Bling Bling. It may have been the second IIPA I ever had, after Pirate Life. Magnificently aromatic and hop forward, with a darker hue due to its malty foundations. It's a seasonal release which I patiently await each year. But the Fresh is Best philosophy is paramount for this style. They don't see the inside of my fridge for long.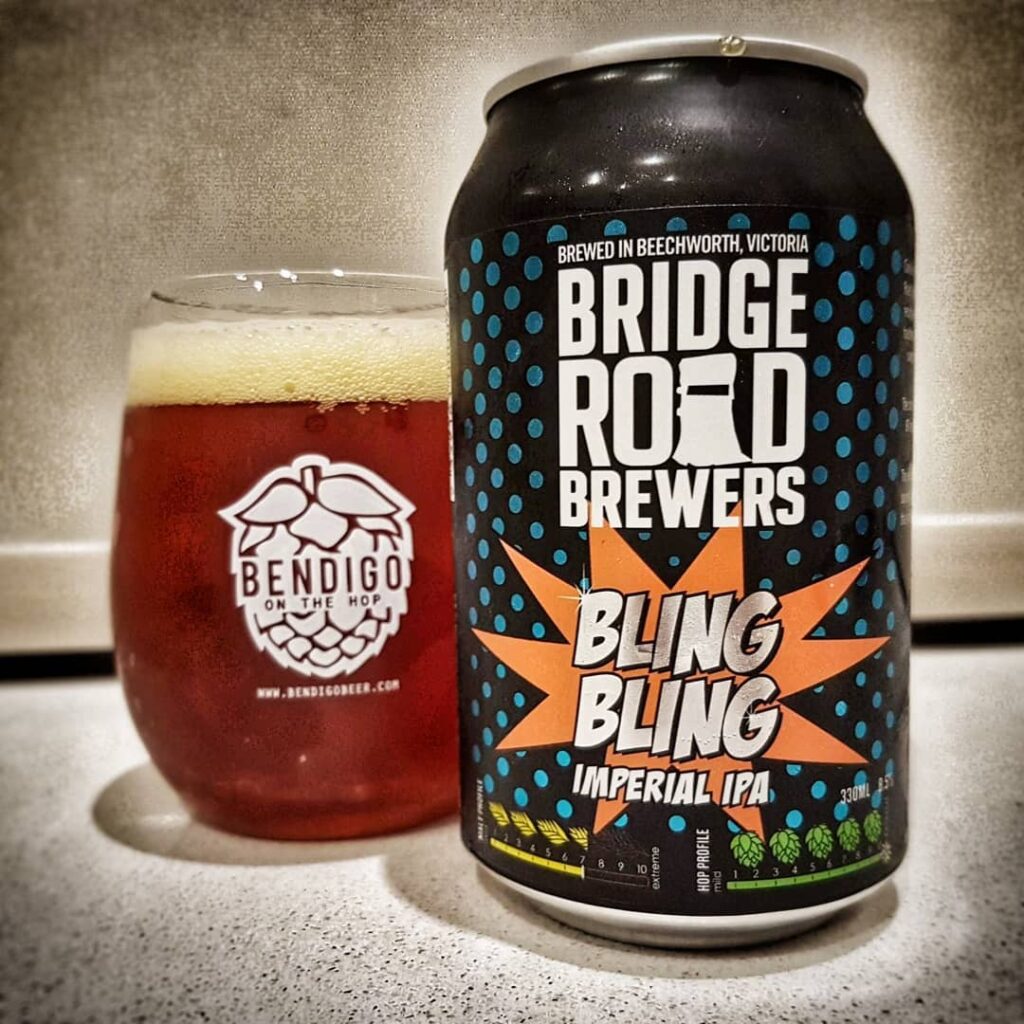 It's fair to say Bling Bling and Little Bling are natural variations on an IPA. There are other examples of breweries who make a low ABV or Imperial version of their IPA. In mid 2018 the Boffins at Beechworth did something for the experimental beer nerd in all of us. To my knowledge it was a first for an Australian brewery.
Having a somewhat limited pool of beer nerd friends to pontificate with, I frequently share new beers with my mum. She's not a beer person, but is fascinated by the wide range of flavours and styles in the beers I bring over. Mum's a great cook (I know, aren't all mums) and worked in the food service industry for much of her life. Her familiarity with food gives her a different and interesting perspective. Like me, she's particularly fascinated by farmhouse style sours. So when I received the Bling De Wilde four pack in my pimped up Posse delivery, I knew exactly who I was sharing it with.
The pack takes its cues from Bridge Road's annual Single Hop IPAs. But instead of showcasing hops, Bling De Wilde uses wild yeasts from three different wineries in the region for fermentation. Using Bling as a baseline, Bridge Road highlights how yeast influences the beer in different ways. It's a fascinating experience.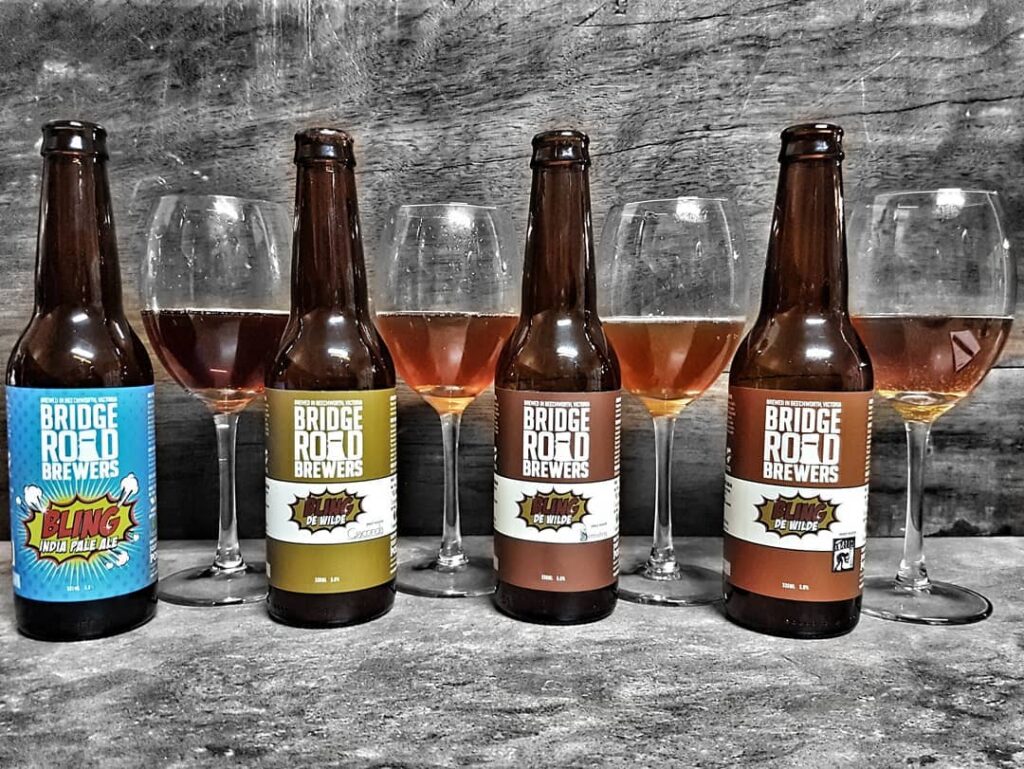 I sometimes lament that Bridge Road Brewers seem underappreciated by some craft aficionados. True, they're not among the breweries jostling at the front of the hops arms race, double and triple dry hopping, competing for favour within the existing market of Craft Beer zealots. Don't get me wrong, I love a dank, aromatic IIPA as much as the next person, but with so many beers in this space, it begs the question, what is the end result? Is it an extreme within a niche that appeals only to those who've already found craft? I'm not sure it contributes to growing the craft beer market and extending its reach.
I'm not expecting to see Bling De Wilde again, but it exemplifies Bridge Road's motivation to bring beer to new markets with wild and spontaneous ferments. Pitting beer against wine, proving it's worthy of a place on the dinner table, as well as surrounded by ice in the esky. I have no hesitation in suggesting that Bridge Road Brewers, along with a small but growing group of likeminded brewers, are truly at the forefront of Australian beer innovation.
So what of the Hazy Bling?
The New England IPA or NEIPA, with its characteristic 'hazy' appearance, low bitterness and hop laden aromatics and flavour, is a hotly debated style. Some purists criticise its 'chicken soup' like appearance, feeling that it mocks some conventions of traditional brewing. Its 'juicy' mouthfeel is also at odds with the palates of some craft drinkers. Arguably innovative itself once, it now has a reputation as a hyped style, bolstered by social media culture. Despite this the "Haze Craze" is showing no signs of letting up.
I also feel I need to acknowledge debate around what constitutes a NEIPA. In some circles NEIPA and Hazy are used interchangeably to refer to an IPA with a hazy appearance, but others contend that there is a distinct difference. This was well illustrated on the most recent episode (135) of Ale of a Time, where Luke and his guests discussed the subject. Chris from Mr Banks acknowledged that, "New England IPA comes with a lot of judgement," and admitted that his brewery had, "stuck away from the term NEIPA," believing it to be misused, but also misunderstood. There was however some consensus that a true NEIPA uses a specific yeast and is low in bitterness, where a hazy IPA generally isn't. Whatever the case, brewer's inclination to use the term Hazy IPA, rather than NEIPA, would seem to be an attempt to avoid criticism.
Bridge Road's foray into the 'hazy' style was a little surprising to me, I'll admit. The number of breweries without a hazy beer in their repertoire was diminishing. I'd heard rumors of traditional brewers who refused to touch the style. As more time passed without a Bridge Road Hazy, I wondered if Ben was one of them.
Midway through 2018 though, it came. The Hazy Red Ale arrived in my Posse delivery. I sensed its inclusion in the member pack was testing the waters among loyal Bridge Road fans, such as myself. An attempt to ascertain how a Bridge Road NEIPA might be received on a more widespread release.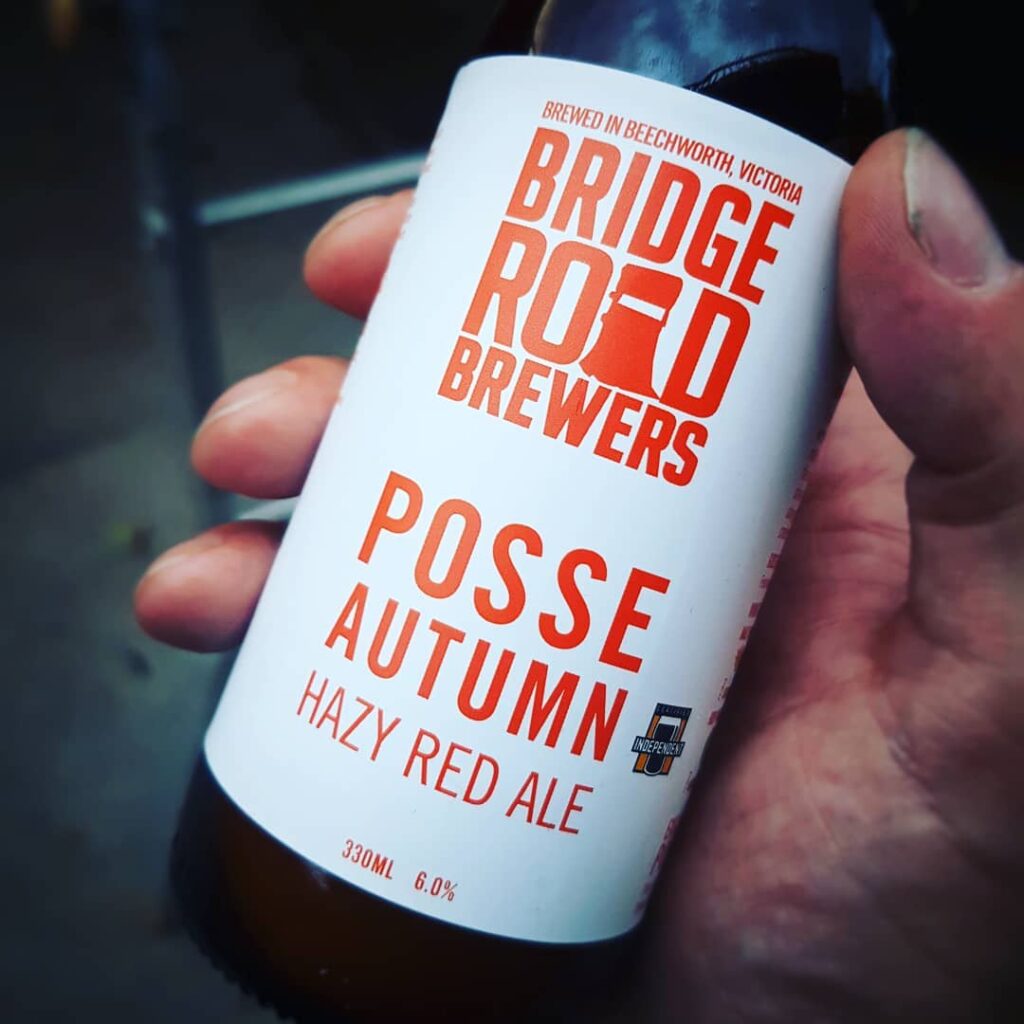 With hazy IPAs having been around for some time, would it be cynical to suggest adopting one was capitulating to the will of the market? Maybe not. Brewers are an inquisitive, experimental lot. Much of the time they're motivated less by market forces and profits, and more by a desire to 'have-a-go' at something new. The introduction of Hazy Bling seems more about letting the crew at Beechworth experiment with the style, while still creating something which contains some Bridge Road character. This seemed like an example of what can be done with Bling, rather than what Bridge Road could do with a Hazy IPA.
Josh Dielman is North East Victoria sales rep for Bridge Road Brewers. We share a beer on occasion when he's in Bendigo repping, but more recently at the B2 Bomber Mach 9 launch at The Farmers Arms on the outskirts of Bendigo. Of the Hazy Bling, he told me this:
"Hazy is another standout evolution. We've adjusted the malt bill and juiced up the hop selection, but still been able to produce a beer that is quintessentially Bling. From the moment you open a beer from the Bling family and put your nose to it, you know the smell, and Hazy lives up to that first essential test.
NEIPAs are definitely a thing right now, and we've never rushed to be trend followers. I'm glad we were able to make something that isn't just on trend, but is also an evolution of that trend. I for one welcome our Red NEIPA overlords."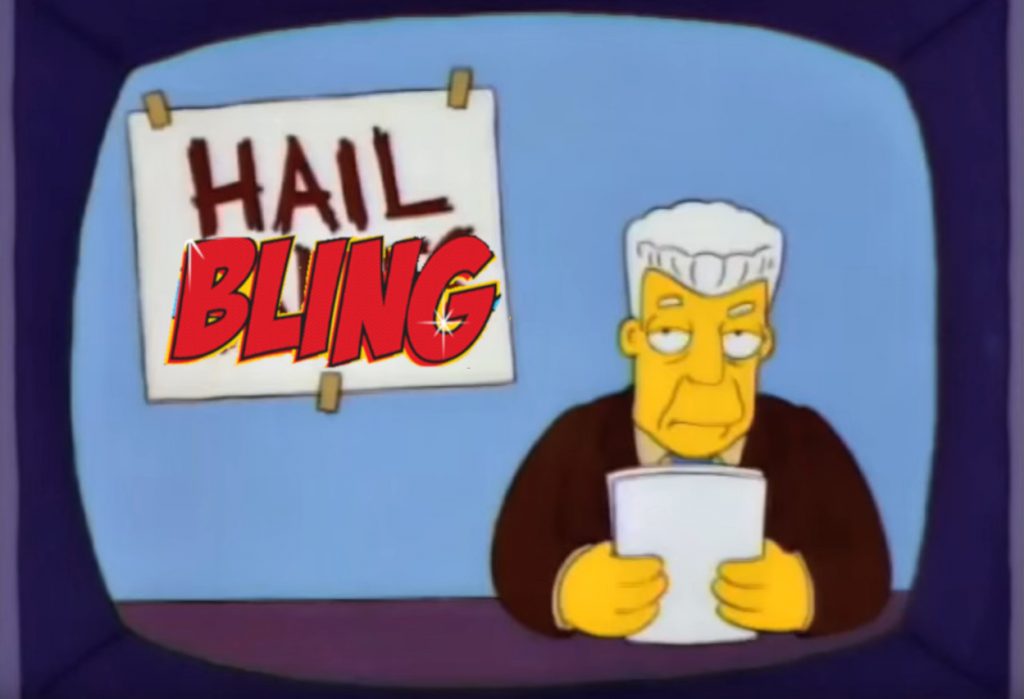 Hazy Bling does not stand alone. Evolution was not only a theme in my and Josh's minds but also that of Ian McNally.
"It is refreshing to see the constant evolution of Bling beers from mid-strength to banging Double IPAs. What does make me pleased is the strong nod to a darker and maltier IPA style that hasn't relented even with the recent Hazy Bling. The comfort and familiarity of the Bling brand perhaps makes it possible for Bridge Road to swim against the tide in this respect and that can only be good for the Australian beer drinker."
The Bling brand has a strong DNA for continued evolution. Natural selection dictates, as with most brands, some products will fall by the wayside. Bridge Road Brewers is no exception. But the overall range of core, seasonal and specialty beers produced by Bridge Road is staggering. Bling firmly occupies its space within the Bridge Road Brewers brand. Natural selection has a tendency to favour those who are able to adapt and I think this is very true of Bling.
Luke Robertson again: "Chuck double Bling and Hazy Bling in the mix and you've got a unique family of beer that stands out on the shelf as an almost separate range to the rest of the Bridge Road clan. It's amazing watching Ben and the team navigate the incredibly difficult waters of the beer world with a product like this."
And, as I complete this piece, rumour of another slight change to Bling has been confirmed. The original Bling, perhaps not literally, as far as the recipe, but definitely in spirit, is now available in cans. I had a couple of freshies this past weekend and it was every bit as good as that first time at Rocks on Rosalind. I confess to indulging my inner beer nerd by also drinking my last Hazy IPA, a Bling Bling IIPA and a regular bottled Bling that night. One big happy family.