The GABS Hottest 100 Australian Craft Beers(H100), and the New Zealand version of the poll, are an interesting look at craft beer in their respective countries. What started as a bit of fun among a bunch of staunch craft beer drinkers at The Local Taphouse in St Kilda in 2008, has grown into a national poll. This year it attracted 31,000 voters and 155,000 votes.
The poll generates much debate. A frequently discussed subject is what factors contribute to a place in the poll. Radio Brews News has suggested a formula of distribution multiplied by hype squared. While this formula is as abstract as it is lighthearted, there is an element of truth to it. Wide distribution, coupled with strong marketing, are indeed key components to success.
But some beers seemed to buck that trend this year. They garnered a surprising number of votes, with distribution and/or brand awareness nowhere near that of some of the heavyweights. The small breweries they're brewed at were able to motivate their loyal customers to vote for their local beers.
This grassroots support for local beer was the basis for a comment I made on an Instagram post by Tasmanian podcasters Step Brewers. In their pre-H100 podcast, Step Brewers implied that there was no point in any Tassie brewers taking part in the Hottest 100. I couldn't help but wonder whether their despondent view may have been indicative of fellow Tasmanians, and whether this could have influenced poor polling by beers from the state.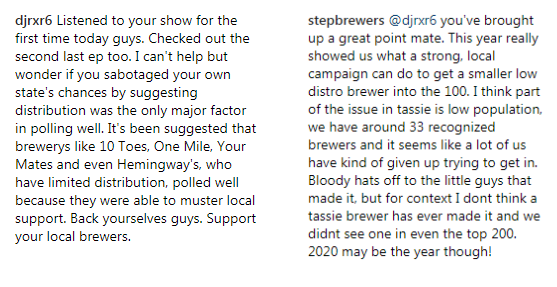 Clearly disheartened by recent poor polling of beers in their home state, Step Brewers suggested that low population was a factor in their poor results and commented that they weren't sure "a Tassie brewer has ever made it". My recollection of past results caused me to suspect this wasn't true. I quickly worked my IT magic on all Australian Hottest 100 polls, filtering by TAS beers.
2008
20: PALE ALE (American Pale Ale) Moo Brew (TAS)
66: PREMIUM LAGER (Pale Lager) James Boag's (TAS)
69: DARK ALE (Dark Mild) Moo Brew (TAS)
2009
21: PALE ALE (American Pale Ale) Moo Brew (TAS)
34: IMPERIAL STOUT (Russian Imperial Stout) Moo Brew (TAS)
46: DARK ALE (Dark Mild) Moo Brew (TAS)
2010
21: PALE ALE (American Pale Ale) Moo Brew (TAS)
50: IMPERIAL STOUT (Russian Imperial Stout) Moo Brew (TAS)
65: HEFEWEIZEN (Hefeweizen) Moo Brew (TAS)
2011
46: PALE ALE (American Pale Ale) Moo Brew (TAS)
55: HEFEWEIZEN (Hefeweizen) Moo Brew (TAS)
74: IMPERIAL STOUT (Russian Imperial Stout) Moo Brew (TAS)
79: DARK ALE (Dark Mild) Moo Brew (TAS)
85: BARREL-AGED IMPERIAL STOUT 2010 VINTAGE RELEASE (Russian Imperial Stout) Moo Brew (TAS)
94: PILSNER (Classic Pilsner) Moo Brew (TAS)
2012
89: PALE ALE (American Pale Ale) Moo Brew (TAS)
98: HEFEWEIZEN (Hefeweizen) Moo Brew (TAS)
Tasmania does have a proud history of results in the Hottest 100. Moo Brew reached the twenties in earlier years, but dropped out completely from 2013 onward.
But what of Step Brewer's suggestion that the state's low population is a factor in the state's poor results? I was curious about the angle. But I was still encouraged by the good polling from some of the high performing localised breweries. Could some Tasmanian breweries achieve the same kinds of results if they could encourage more support from locals?
I went back to the numbers to try and find evidence that the craft beer landscape in Tasmania, was similar enough to where hyper-local breweries had rallied their regular patrons to the cause. I looked at the number of breweries in each state, as tallied by Craft Beer Review on their socials, and the population.

How little I knew about craft beer on the apple isle. I was aware the state had a proud history in beer with breweries such as Cascade and James Boag. When I began my own foray into craft, I came across craft beers from Moo Brew many times, even in regional Victoria. And more recently I've discovered likes of Hobart Brewing Co, Last Rites and Van Diemen. But the density of breweries in Tasmania was something I did not realise.
Perhaps this analysis of brewery density in each state lends itself to another aspect of this year's Hottest 100 Craft Beers poll, which was the lower than expected placings of some beers from established breweries. For the last few years, Melbourne has been the undisputed mecca of Australian craft beer and Western Australia is widely regarded to be its birthplace. Breweries from both states, some highly regarded, did not poll as well as some expected.
Does a feeling of normality to craft beer in these states, coupled with the density of craft breweries, make it more difficult for beers to attract a significant number of votes? Does Tasmania, with almost six breweries per 100,000 people, of which many are well established, share more in common with states like Victoria and Western Australia, than Queensland, The Northern Territory and, to a lesser degree, New South Wales?
I found all this analysis pretty interesting. I'm a bit of a nerd that way. But it would seem there's no conclusive evidence to support the theories I've touched on. There is no magic formula to polling well in the GABS Hottest 100 Craft Beers. My feeling that Tasmania could have done better if it were able to muster more support, pretty much went down in flames. Mostly because I didn't realise just how many breweries there are in the forgotten state.
However, there's a lot more data which would be interesting to look at. How many breweries existed in Tasmania in the years when Moo Brew was doing well? How many were there Australia wide at the time? And so on.
It would also be interesting to look at breweries in the poll from a regional vs metro perspective. Some regional breweries polled well indeed. The top ranked Victorian beer was not from Melbourne. Which participants in the poll voted for breweries in their own postcode?
Despite all this, I stand by what I wrote in my comment to Step Brewers. Support your local brewers!
Thanks for reading my first serious craft beer article. I've been aspiring to write for some time now and I'm pretty excited to finally get something out. If you like what I've written, you can support me on Facebook, Twitter and Instagram. Thanks again, Daniel.