In 2022 I travelled to Brisbane for GABS. This is the story of my beer adventure. The breweries I visited, beers I drank, people I met – and the number of steps taken in a pair of black, rubber thongs.
Click here for the whole series.
---
In February 2022 I hatched an idea to spend a few days in Brisbane. It was inspired by a discussion on The Step Brewers podcast about them going to GABS Brisbane on the 7th of May. It'd be an opportunity to catch up with them, as well as the team at Brews News, who I've been collaborating with on a couple of projects.
But being away from home is a bit of a challenge for me these days. I have two young children and a four-month-old baby. I had a long conversation with my wife since I wanted to be sure she was comfortable managing on her own. I knew it was a big ask. Generously, she encouraged me to go.
By March, flights and accommodation were booked. But in the days that followed, The Step Brewers were forced to cancel their trip and my main Brisbane contact was taken out of town on business. As someone who rarely ventures far from his comfort zone, my reluctance to cancel tickets was the barrier to retreat I needed.
I was determined to make the most of the trip. With encouragement from my colleagues at Bendigo Beer, I contacted a handful of breweries in the hope they'd have time to accommodate a visit. Responses were all good, and I formed a rough plan for the three days I was to spend in Queensland's capital.
Departure
Forty-five minutes into the drive from Bendigo to Melbourne and I received a text message from the airline. I'd been booked on a later flight. My departure would now be almost three hours later.
It's something that would have been convenient to know before I left my family in my wake, but, being a glass half full kinda guy, I knew there was something special at Tullamarine's Terminal 3 that would make the wait painless.
SGT3
With hours still to go until departure, I was now staring at the stainless steel of Stomping Ground T3. I'd visited the pop-up bar, T4½, a few times back in 2018, but this was the first time I'd been to the fully-fledged airport brewery.
The venue itself is larger than I expected. As with the pop-up bar, SGs complete core range is on the menu, plus a couple of seasonals. Unlike the pop-up though, the venue has a kitchen and a full, pub-style menu. There's even a fridge for take-aways, which is convenient if you want a nice beer when you reach your destination.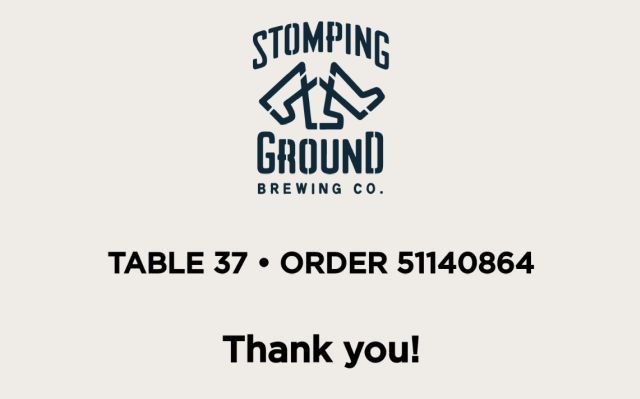 My only criticism is the availability of some beers. I can say of both Stomping Ground venues I've visited at the airport, the first beer I requested from the menu has never been available. I understand limited releases must run out quickly, particularly in the volumes appropriate for a domestic airport, but it's still a slight letdown.
This is, of course, a minor grievance. One that I was hesitant to include. I mean, not too long ago I would have had to suffice with something quite different at the airport.
And so it was that the first beer of my Brisbane adventure was a Victorian, Stomping Ground Upside Down Brown. Followed by some delicious flathead tails with a Bunker Porter, and finally, a Big Sky Park Ale. I was three pints in and I hadn't even left my home state.
I was now ready to fly.
Headphones in. Beer podcast – play.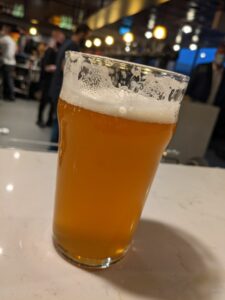 Arrival
It was just after 9pm as I went through the obligatory jostle to deboard my flight. After an easy 40 minute ride on the AirTrain from Brisbane airport and a five-minute walk, I was at my hotel in the CBD.
I chose my base for its proximity to the Brisbane Exhibition Centre, the venue for GABS Brisbane. Walking is my preference when I'm in large cities and it was fifteen minutes between the two. It was also central to all the venues on my shortlist of places to visit.
Now that I was checked in and unpacked, I decided to venture out for a look around. To get a lay of the land and on the off chance there was somewhere to get a good beer before turning in for the night.
I had my fingers crossed Brewski would be open. But as the time was now approaching 11, I had little hope. Alas, my suspicion was correct. "Tomorrow night," I thought.
With recon complete and no interest in stopping at any of the regular pubs still open in the area, it was a convenient incentive to get an early night in preparation for the following day…
Stats
Venues Visited: 1
Distance Travelled (km)
Driving: 137.3
Flying: 1381
Train: 15.4
Walking: 2.15
Steps Taken: 13,711