Part two of my Brisbane beer adventure. My first full day in Brisbane and a tour with Hop On Brewery Tours of some breweries south of the river.
Click here for the whole series.
---
Having enjoyed the first full night's sleep in 14 weeks, plus a sleep-in, I was well-rested and eager to start my beer tour of Brisbane.
I made contact with Hop On Brewery Tours in the lead up to my trip. They operate full and half-day tours in Brisbane and the Gold Coast. I was familiar with co-founder Joslyn from her interview on The Chosen Brew podcast and I knew she was a passionate beer lover and ambassador for the region. Who better to show me around a few places?
The plan was to be picked up from my hotel. But since I was ready to go earlier than anticipated, and the first venue was to the south, the direction Joslyn was coming from, I messaged her and suggested I catch the bus and meet her at the first brewery.
"You're not from around here, are you?" She responded.
Public Transport
Having lived on the outskirts of regional cities like Ballarat and Bendigo most of my life I seldom use public transport. I'm no stranger to it. I've travelled on some of the busiest public transport networks in the world, such as London, Tokyo and Osaka. It's not second nature to me, is all. As a result, I'm never one hundred per cent sure I'm going to reach my intended destination.
But for me, this uncertainty adds to the adventure. The nervousness of watching the blue dot on Google maps, hoping it will move in the right direction, making sure not to overshoot my stop. Isn't that part of the fun of being somewhere new?
Or am I a bit sad?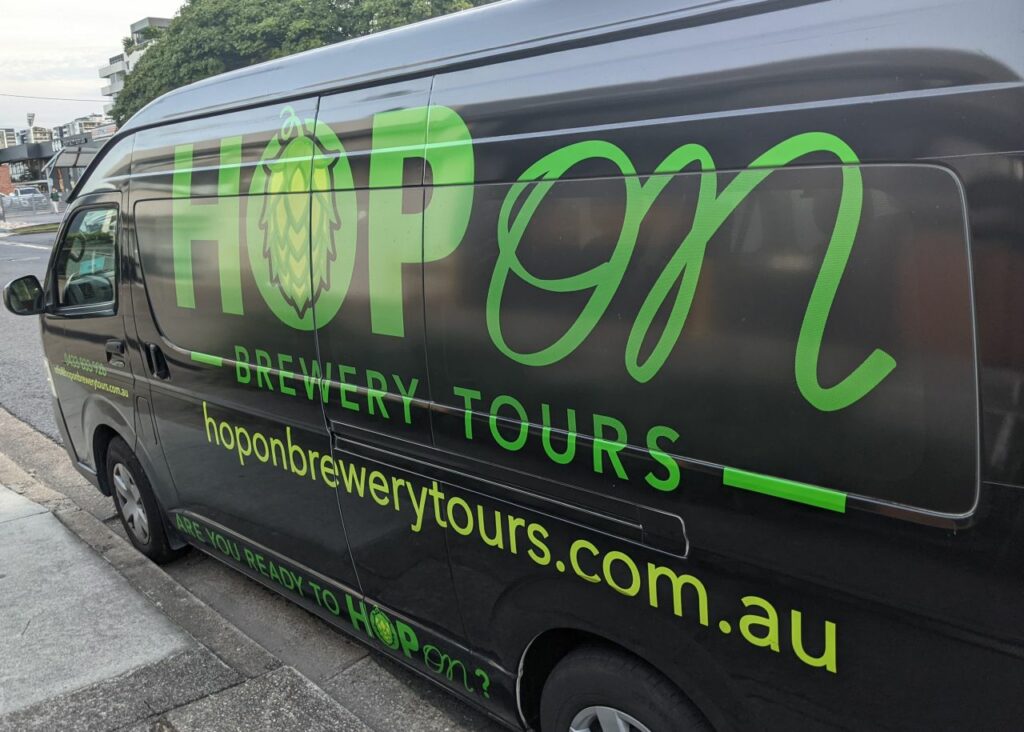 Ballistic
After 40 minutes of bus ride and a 200-metre walk, I was at the site of the Ballistic brewery in Salisbury. Perfect timing, as Joslyn arrived only five minutes later in the Hop On bus.
Ballistic is a brewery I've watched for some time. I touched on their rise when I wrote about Hawaiian Haze in my GABS prediction pieces. Since opening in 2017 they've grown relatively quickly, winning multiple awards for their beer and making an impression all across Australia.
The brewery is housed inside an old World War II munitions warehouse on the edge of an industrial district. It's modest and functional compared to others I visited, but this is a community hub, not a tourist attraction. And with the gargantuan brewery on display producing beers as good as theirs, who'd complain.
Hawaiian Haze was the first beer I sampled. I had to see what it was like at the source. But after that, it was all beers I knew I wouldn't find in Bendigo, like a Saison and a West Coast IPA.
Brewers Evan Lloyd and Jake Harrison were a delight to chat with.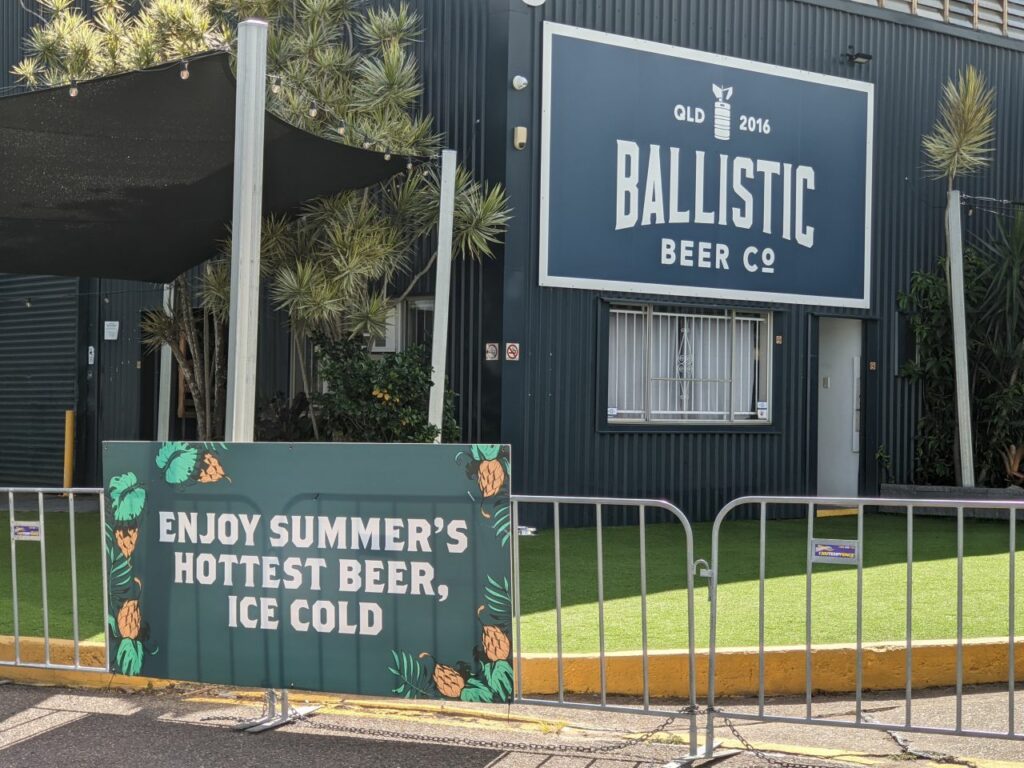 Helios
Because I enjoyed Brews News podcast episodes with owners Charlie Hodgson and Scott Shomer, Helios Brewing Company was high on my list of locations to visit. In his interview, Charlie talked about his brewing history and contemporary trends in craft beer, while Scott spoke on how the brewery earned the Brisbane Lord Mayor's Award for Sustainability in Business.
Conveniently, Helios was barely five minutes from Ballistic via the Hop On bus.
I'd not sampled Helios' beer until that day. I had an idea what to expect, well-made traditional style beers appropriate for the Queensland climate, but I have to confess, the range was broader than I anticipated. From an easy-drinking golden ale and a tropical ale, all the way to a Saison and an Imperial Porter, what I didn't have time to sample at the venue, I brought back to Victoria.
I met Charlie and on-premise manager Adam Schell, who were both extremely generous with their time (and their beer). We discussed everything from the ingredients in the beer, target market, digital marketing, branding and Greek mythology.
Alas, so free-flowing was the conversation (and their beer), that I completely forgot to ask about the award-winning sustainability features in the brewery. Oh well. Next time.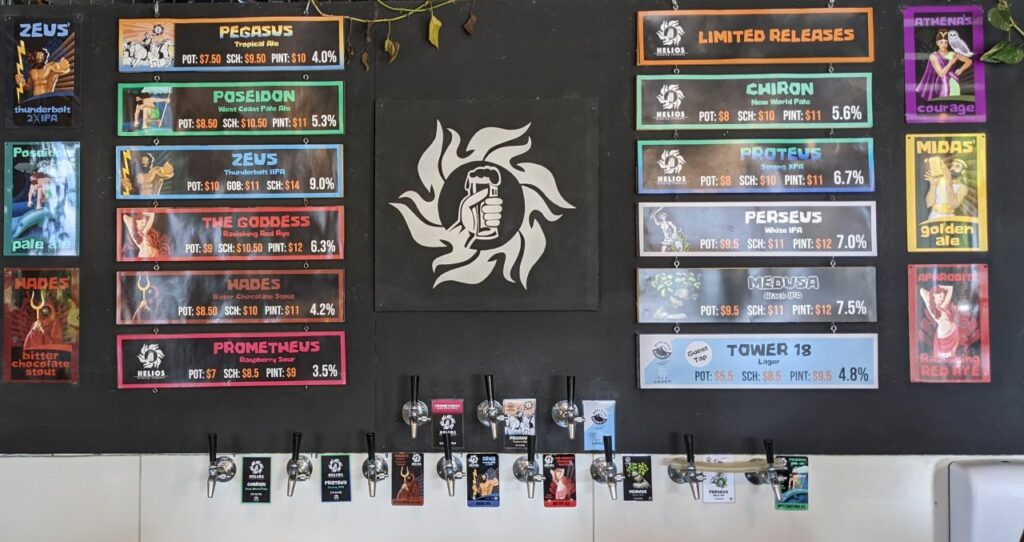 Revel – Rivermakers
I'm fortunate to have relatively good access to Revel beers where I live. There's a family connection between the owners of the pub closest to my home on the outskirts of Bendigo, The Farmers Arms, and one of Revel's brewers, himself a former Victorian. The logistics are convoluted, but somehow the pub bottle shop carries much of Revel's core range and often features their limited releases.
So I thought I was quite familiar with Revel compared to other Queensland breweries, but I had no idea the Rivermaker's brewery existed. I had intended to visit the brewery at Bulimba, but with Joslyn's guidance, we went to the new brewery instead.
And what an impressive venue it is. Part of an urban renewal project centred around the Commonwealth Acetate of Lime factory, the brewery's 35 hectolitre system produces more than double that of Bulimba. The restaurant's fare expands beyond pizza and pasta to a more premium style of contemporary pub dining, with a strong 'paddock-to-plate' ethos.
So what did I drink? Perhaps having already sampled many of Revel's beers back home helped narrow my choices, but once I saw a Hefeweizen on tap, I had little doubt about what I was having.
My visit to Revel was short. With time getting on, I was keen to squeeze in one more brewery before my guide had to leave. If I'm ever back this way, Revel will be on my list for dinner destinations.
Black Hops Brisbane
The last brewery on this leg of my tour needs no introduction. Their brewery in East Brisbane is one of four it now operates.
Formerly Semi-Pro Brewing, it typifies what one would expect of a brewery in the inner suburbs of a metropolitan city, but with a kind of slick Black Hops polish. The former warehouse is spacious, with the stainless steel of the brewery prominently on display.
The core range beer on tap comes from the Gold Coast brewery. Allowing this East Brisbane site to focus on small-batch, seasonal brews. I was fortunate to get a sneaky taste of an Altbier that was still in tank. Mmmm, malty goodness.
By this stage, Joslyn had learned a lot about my tastes in beer and my affinity for funky sours. She pointed out a Brett fermented sour in the brewery's AWOL series called La Ferme, a beer derived from Black Hop's Beach House Saison. Naturally, I had to compare and contrast both.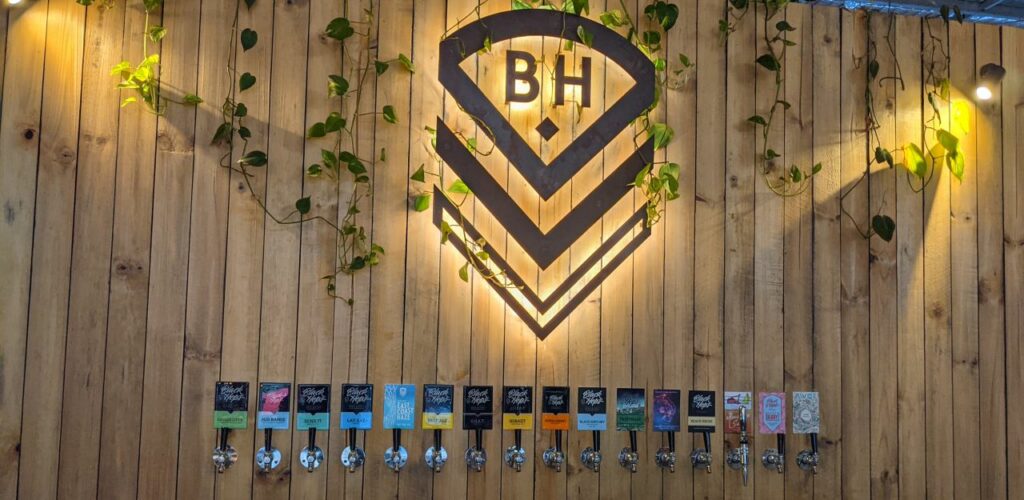 Hop On Tour end
It was almost time to say goodbye to my guide for the day. With the unenviable trip back to the Gold Coast amid peak traffic still ahead of her, something I was embarrassingly ignorant of, we headed for my hotel.
We hatched a plan for the following day. I had mentioned to Joslyn that I was keen to visit Madocke Brewing. I could join a tour Hop On was already operating if I could get a train to the Gold Coast. It was a good idea – in theory.
Making contact with Hop On was the best thing I did. I'll hold the bulk of my thoughts for the end of this story, but needless to say, Joslyn's understanding of Brisbane's beer scene informed the rest of my trip.
Read about my evening exploring just west of the Brisbane CBD on foot in part three.