Part three of my Brisbane beer adventure. The evening of the second day. A walking tour of venues and breweries close to my hotel.
Click here for the whole series.
---
With the day far from over, I dropped the day's haul of beers back in my hotel room fridge and ventured out again. But now it was a solo outing.
At this point, it's worth mentioning how I'm known for not dressing appropriately.
For example, I began last year's Bendigo Beer Christmas day, a 14-degree morning at Woodend, dressed in shorts and a T-shirt. The most recent Bendigo On The Hop was a 26-degree day in March, and I wore denim jeans and boots. Balancing fashion, practicality and the weather is a work in progress.
I also own no shoes that go well with shorts. Only thongs.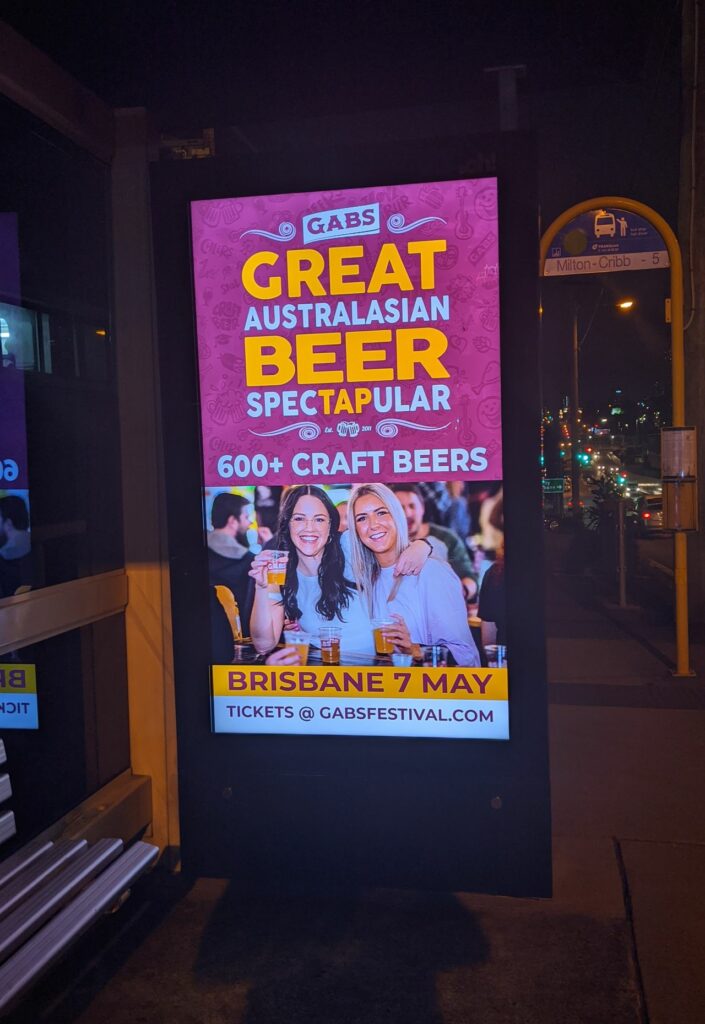 Milton Common
After a fifteen-minute walk, pausing for a short video chat with my wife and children, I was at my first port of call for the night.
I knew the founders of Aether Brewing parted company in 2019. One kept the name, with plans to build a production-focused brewery, while the other kept the venue, choosing to focus on a community-oriented brewpub.
But I didn't know Milton Common was the former Aether brewery until that day.
From the street, the narrow two-story building looks cozy. The few spaces in front of the building for cars were filled with empty kegs—an encouraging sight for a beer nerd.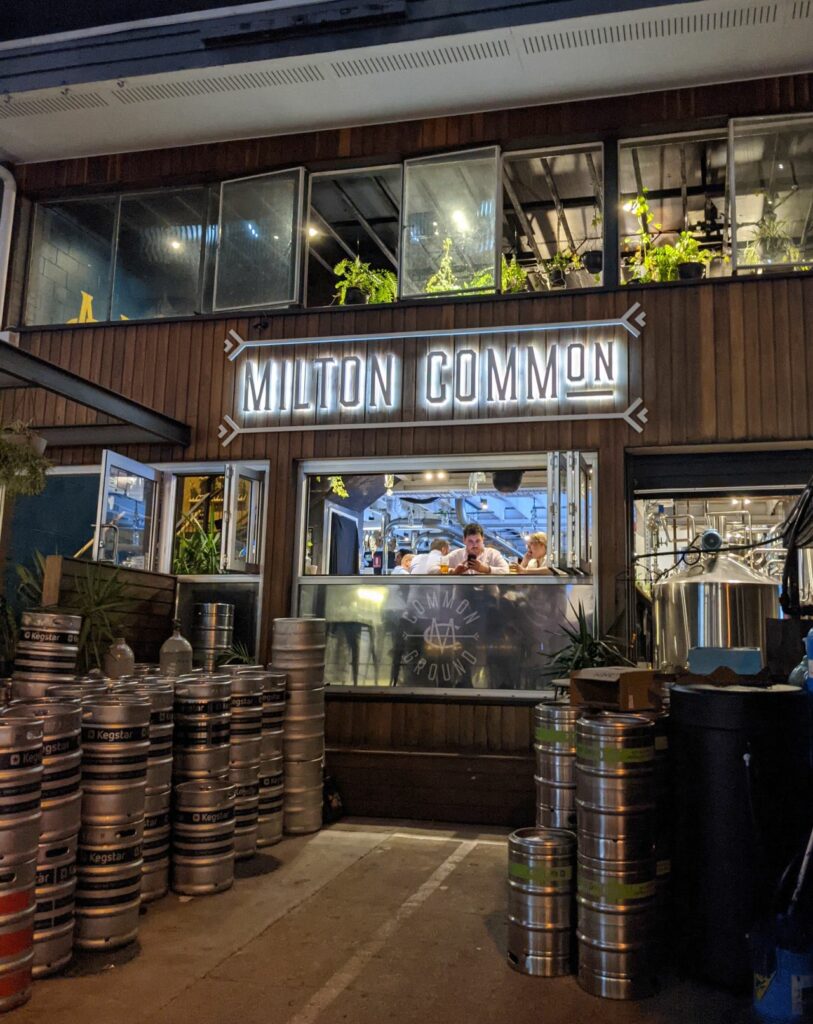 I almost didn't go in, though. Not familiar with the venue, the sign informing of a private function led me to think the main bar was closed to the public that night. The bar was packed, and the anxiety of walking alone into a place filled to the brim with people fueled my hesitation.
But after reasoning with myself that the sign probably referred to whatever was up the staircase next to it (duh!) and some reflection about needing to push outside my comfort zone, I pressed on, grabbed a beer and found a place to peruse the menu.
I could almost touch the stainless steel of the brewery from where I sat. The main bar's low ceiling makes it feel like a tight space at first, but it also brings an intimacy that adds to the community vibe.
The aforementioned function was in the venue's mezzanine bar above. A more open space that overlooks the brewery. A gallery also features local artwork towards the back of the venue. The capacity of the entire venue is between 200 and 250 people.
I began by sampling the brewery's core range pilsner. Made with a base Pilsner malt and some Vienna for residual sweetness and colour, it was my favourite. The combination of Magnum and Mittelfrüher hops makes for a clean, crisp beer with floral notes.
From there, I matched a dark lager with the best fried chicken burger I've ever had, followed by a stout. By this stage, I had pushed past anxieties of being a stranger in a strange land and was chatting with staff and brewers.
Is someone watching me?
There's something suspicious about Google and Facebook. Search results sometimes seem tailored around discussions I've just had, and ads for specific products appear months after a single visit to a vendor's website. As if the Silicon Valley spies weren't enough, this night, I noted another entity with strange omniscience I'm now wary of.
As I stood in the bar at Milton Common, I felt the buzz of a phone notification from my pocket. A new Instagram post from The Crafty Pint was spruiking Crafty Cabal deals from the next venue I planned to visit.
Was someone watching me? Is Crafty Towers home to a mainframe with advanced AI? Does the masonic logo hint at its power and influence?
Should these eerie, pre-emptive posts continue, I could end up destroying my hotel room and playing the saxophone!
Scratch Bar
The Scratch Bar is less than two minutes from Milton Common. It's a small, hole-in-the-wall bar with a dimly-lit, eccentric, weathered aesthetic and unpretentious attitude.
But do not be fooled. Scratch opened in 2011. Years before the likes of Balter and Black Hops helped Queensland become a viable contender for best Aussie beer state. Back then, the taps likely consisted of beers from WA and Victoria, if not outside Australia entirely.
The house West Coast IPA was my first beer. An invention of the venue's gypsy brewing alter ego, Brutal Brewers, if I recall correctly. Bitter and aromatic, it was precisely the kind of thing West Coast purists seek.
The bar was relatively sedate when I arrived. I got my first and second beers without waiting. There was even room for some chit-chat with the bar staff as I ordered. But suddenly, it became inundated with customers.
As I watched the lone bar attendant do his best to serve the horde, my decade-dormant hospo impulses compelled me to offer assistance. However, I knew there wasn't much I could do.
Not wanting to add to the burden, I decided this might be a good time to head to the next venue.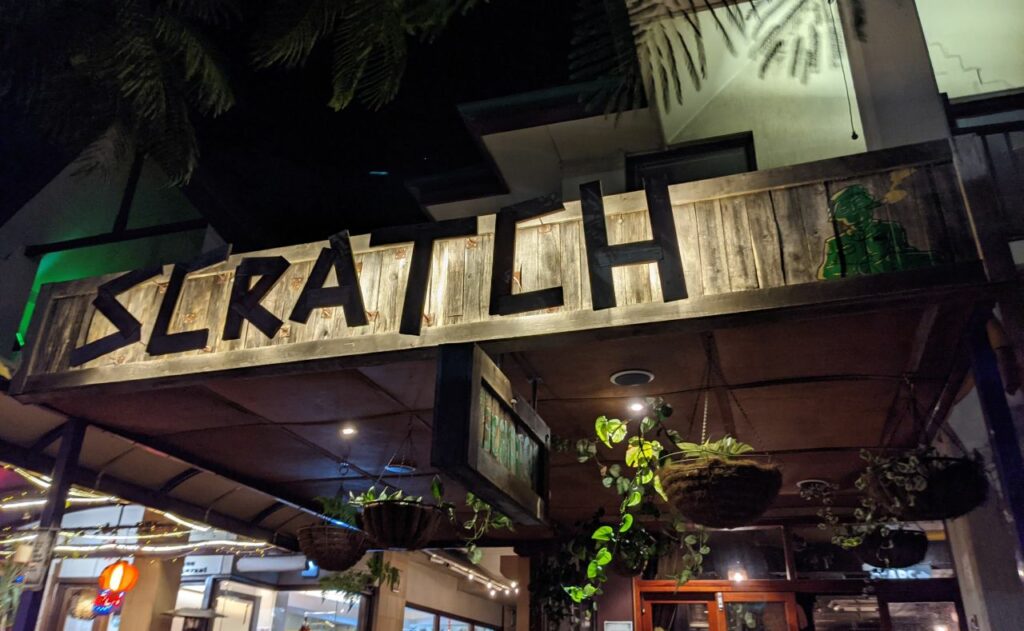 A slight detour
Brisbane's topography is more undulating than I realised. It doesn't make walking between venues difficult or tiring, just that the path from A to B wasn't always the direct path I expected since walking routes adhere to the terrain.
Having left Scratch Bar for Brewski, I walked east along Milton Rd, where the XXXX neon can be seen high above. Little did I know I was about to come to a stop.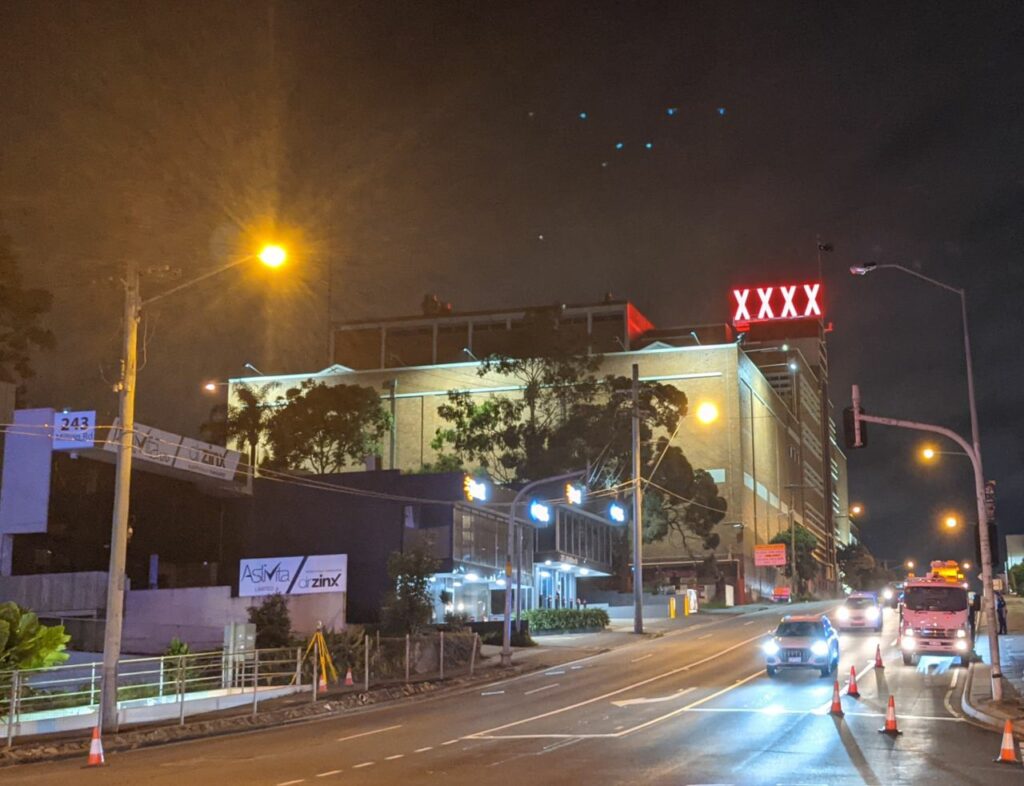 I think Google Maps is partially, if not wholly, to blame. It sent me down an entry ramp where there was no pedestrian route. Opting not to try and climb the embankment, I backtracked a few hundred metres and went around Suncorp stadium, past Newstead Brewing (which was closed, dammit) and onto Caxton St.
Brewski
Thankfully, the bar recommended by multiple Victorians was still open on this night. But, only just.
A few people were littered across tables outside, but aside from the bar itself, inside, the rest of the venue was empty and dim. As I sidled up to order, I half expected to be told the venue was closing.
But the staff were warm and welcoming. Perhaps they took pity because I looked like I'd just escaped the Masone Labyrinth. Despite going through the motions of preparing to close, they were only too happy to furnish me with a beer while they did so.
By this stage, pretences of being a pilsner-seeking, clear IPA purist were long gone. I had a craving for a viscous, hoppy, lactose-sweetened IPA. Range, it would be.
They even let me have one more beer before they wound things up. A beer that I may not have needed at that stage, but wow – did it taste good.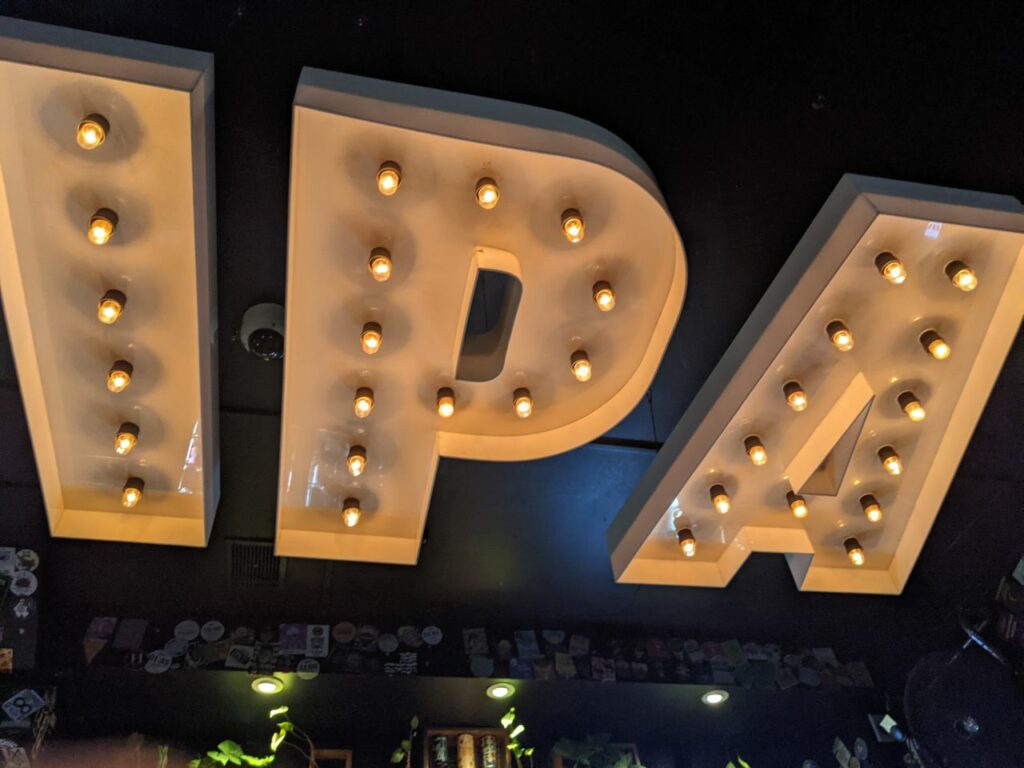 The end of another day
Due to my reconnaissance the night before, the route back to the hotel was familiar. Now with mixed kebab in hand, I ventured back.
With no firm plan for the following day but plenty of options, I turned in for the night.
Stats
Venues Visited: 4
Distance Travelled (km)
Driving (passenger): 27.4
Bus: 11.6
Walking: 6.9
Steps Taken: 13,236