Bridge Road Brewers Wild Red ale is the latest addition to the brewery's Mayday Hills series. It's an enjoyable beer that continues the brewery's recent refresh of the brand. The changes to the beer style and its packaging, say a lot about current trends in the craft beer market.
---
After almost five years of 330ml Mayday Hills ales, changes to the brand emerged. In April 2021, a clear, 750ml bottle carrying the Mayday Hills brand appeared. This intriguing change posed the question, what was afoot with Mayday Hills?
It was with some regret that Ben Kraus, founder of Bridge Road Brewers, told me of the poor performance of Mayday Hills ales. It prompted the Bridge Road team to make some changes and reposition the brand.
Ben explained, "We have moved away from the usual release schedule of the Mayday Hills Brett series mostly to the lackluster uptake of the releases from bottle shop shelves."
"This is obviously hard news for fans of the Mayday Hills series, because many, like me, feel they are some of our best creations. The Mayday label now encompasses most of our barrel-aged beers, as well as those we ferment in the Foeder."
A little history
Bridge Road Brewers Mayday Hills range of ales began in 2016 with 'Yee-Hah' Pale Ale. It ushered in a bi-monthly series of farmhouse-style ales, fermented with 100% Brettanomyces (sometimes referred to as Brett) in the brewery's Oak Foeder.
In an article written by Will Ziebel for The Crafty Pint at the time, Ben told how he was inspired by how Brett was being used in the US. He noted that in Europe, it was typically used in spontaneous ferments. But what he observed in the US, was brewers who were exerting more control over the yeast. He said ferments were "relatively clean" and resulted in beers that he "really enjoyed." This was apparently enough for Ben to buy and import his own Foeder from the Foeder Crafters of America.
In keeping with the Bridge Road ethos of promoting local and independence, each Mayday Hills release showcased ingredients from producers in the regions surrounding Beechworth. Of the twenty-five or so ales in the series, adjuncts such as Orange Marmalade from Jim Jam Foods, Red Stringybark Honey from Beechworth Honey and Green Tea from The Alpine Tea Co, were among those that complimented the distinctive characters that came with brett fermented beers, producing some uniquely complex and fascinating ales.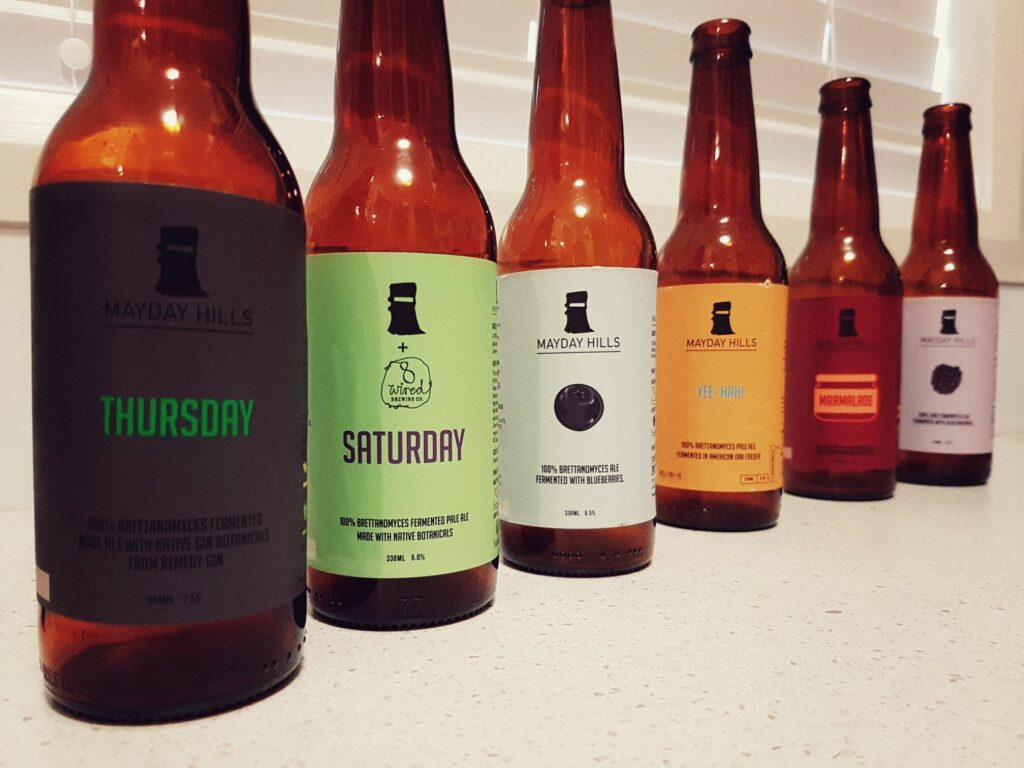 Like most of the brewery's core range beers at the time, Mayday Hills were packaged in 330ml bottles. The branding differentiated them from other beers from the brewery but did not completely separate them from the Bridge Road Brewers family or products.
Dr Andre Sammartino is an Associate Professor in the Department of Management & Marketing at the University of Melbourne. He also has an avid interest in craft beer.
He told me, "I certainly see this as a well-executed brand extension, or sub-brand, as they have kept it very apparent that it's a Bridge Road product."
"A contrast would be something like Beatnik from Hargreaves Hill which has no clear shared branding, or Site Fermentation Project from Hop Nation. The latter example may have some logic as that sour range would presumably not benefit from the 'hopped' connotation."
Raspberry and Apricot
The first in the new Mayday Hills line was a Saison fermented and aged on raspberries. Clear glass was a perfect choice to display the brilliant, deep pink liquid, but I pondered where the brand was going. Mostly, perhaps, because the once proudly proclaimed use of Brettanomyces – was absent.
Bridge Road's Chevalier Saison is one I return to again and again, but the Mayday Hills Raspberry left me a little underwhelmed. I felt the sweet raspberry flavour outshone the yeast character I was expecting from the style. It lacked some of the complexity I'd come to expect.
Interestingly, at the time I had the Raspberry Saison, my fridge still housed one of the Raspberry Mayday Hills from the 330ml series. It was something I was holding on to for another idea, which I never executed. (Blending it with a Robust Porter. I'll never know now, but that's ok).
I was fortunate to be able to compare the two and instantly found what I felt was missing from the Raspberry Saison. The 330ml raspberry sour had more nuance and dimension.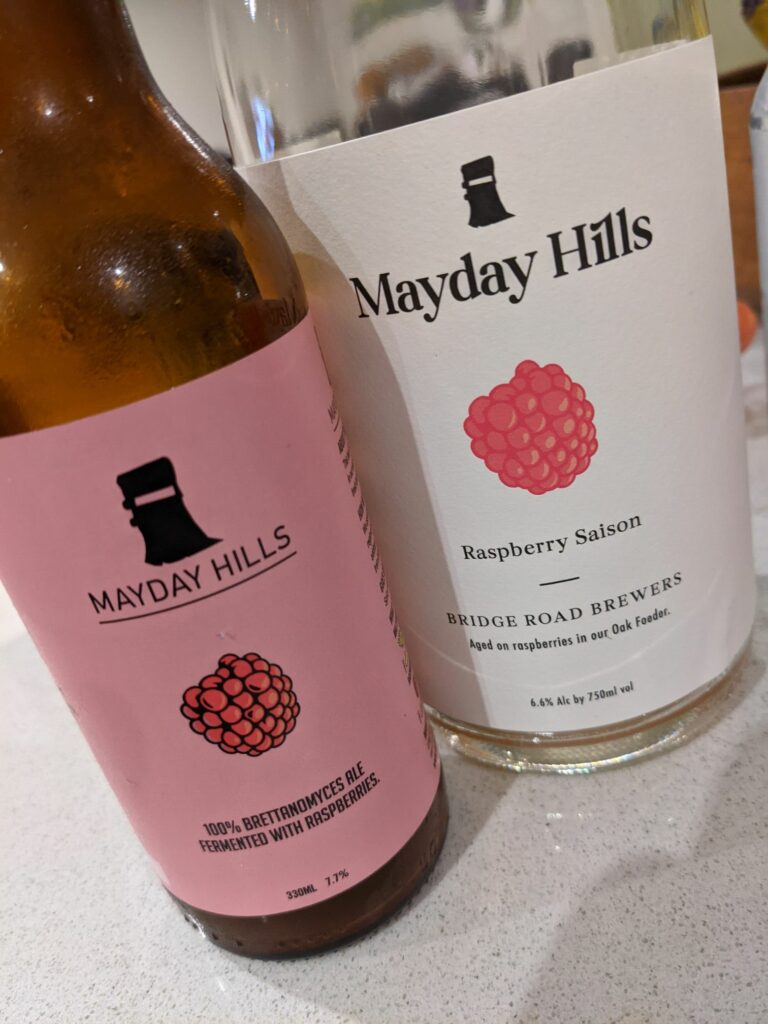 Having said that, they are two distinctly different beers. While the Raspberry Saison may have been a little sweet for my taste, the aroma of fresh raspberries was magnificent. As a dessert beer, matched with something like Black Forest Cake, it could very well be divine.
As it turns out, Raspberry Saison was fermented with Brett. Something Ben verified, but probably should have been obvious to me from the "Aged on Raspberries in our Oak Foeder" present on the label.
He also stated the Raspberry Saison was a notable departure from the subtleties the brand had become known for.
"I think the raspberry Saison was actually a big step away from the nuanced balance of previous mayday releases, where many people couldn't identify or appreciate this aspect. The latest Mayday raspberry was a bit of a reaction making the fruit absolutely obvious."
The second in the new series was Apricot Wild Ale. I skipped this, mainly because Apricot is not my thing. Ben told me with confidence that I would have enjoyed it (Damn!)
Wild Red
Wild Red is the third in Bridge Road Brewers' refreshed format Mayday Hills line of sour ales, but it isn't the first beer from the brewery to carry the 'Wild Red' name.
Beers like these are difficult to pigeonhole to a particular style, but a Flanders style Red Ale is probably the closest approximation. "It's definitely red," Ben told me.
He also explained how it shares the same base recipe as Bridge Road's Celtic Red. However, where that beer is fermented in stainless steel tanks with an English ale yeast, Wild Red was transferred to oak barrels, where it aged for 18 months with a wild yeast culture cropped from active A Rodda Chardonnay fermentations. Thus keeping to the Mayday Hills tradition of collaborating with local producers.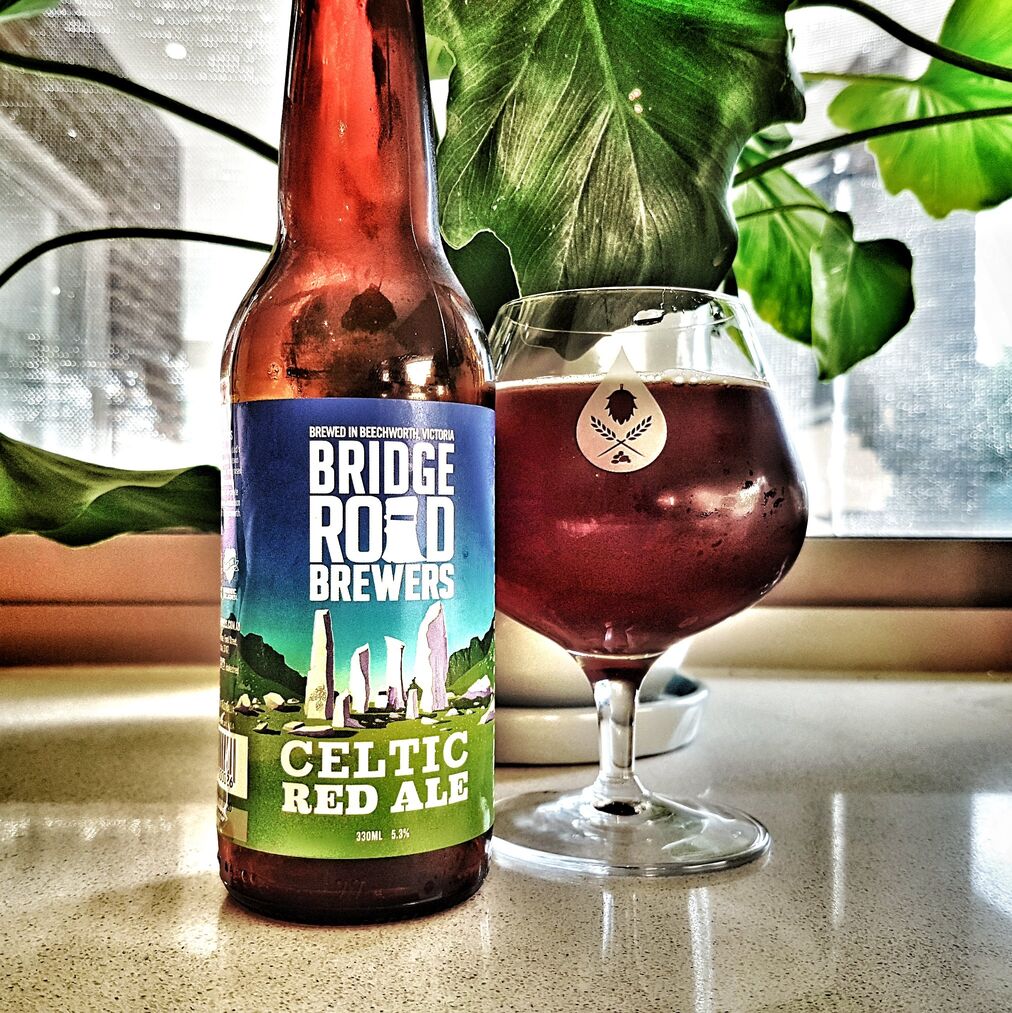 Not that it waivered much, but my faith has been restored by Wild Red. Tart, acidic and rich, it's everything you could hope for in a beer of this style. Like a quality red wine, it lingers on the palate long after imbibing. Allowing the drinker to savour the flavours and take their time with it.
I enjoyed it over about three hours. I've had to restrain myself every time I've seen it on a shelf since.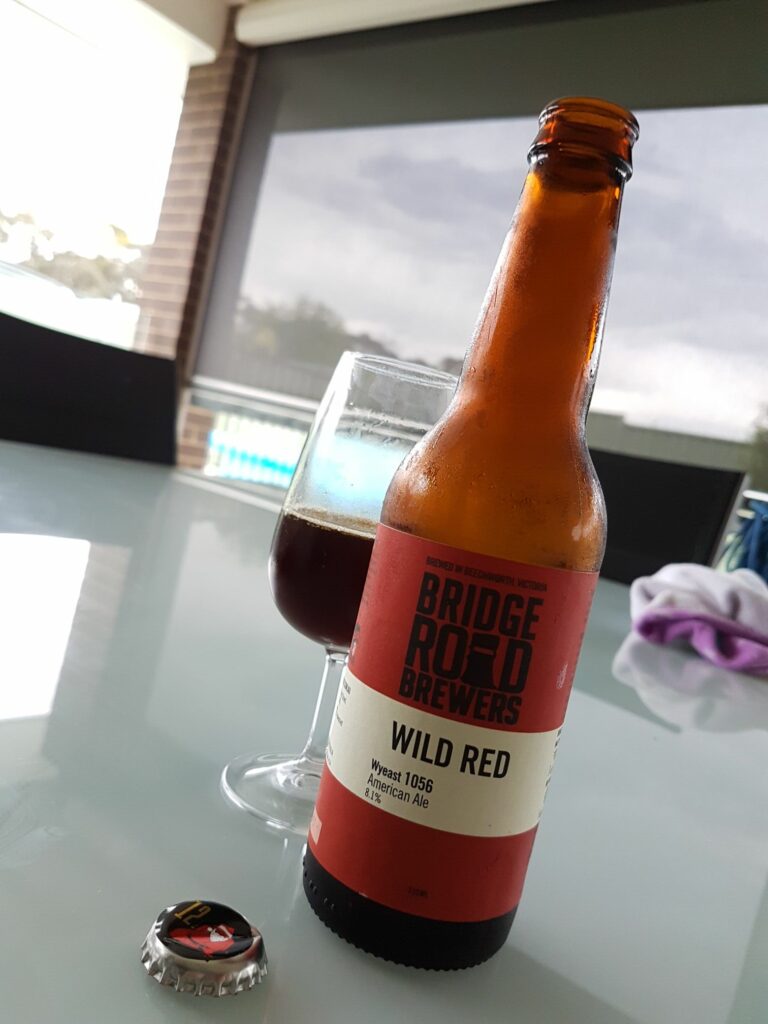 The Package
Along with the change to what's inside, the packaging is a notable deviation from previous Mayday Hills releases. Now in 750ml bottles with consistent white labelling, the approach is reminiscent of the subtlety and restraint seen in wines. It's a suitably prestigious affair by comparison to its 330ml predecessors.
Interestingly, the change would seem completely opposite to that of fellow Regional Victorian brewery, Holgate. Their latest iteration of Wild Red Ale has been a departure from the prestigious, 750ml release of previous years. It's a curious juxtaposition.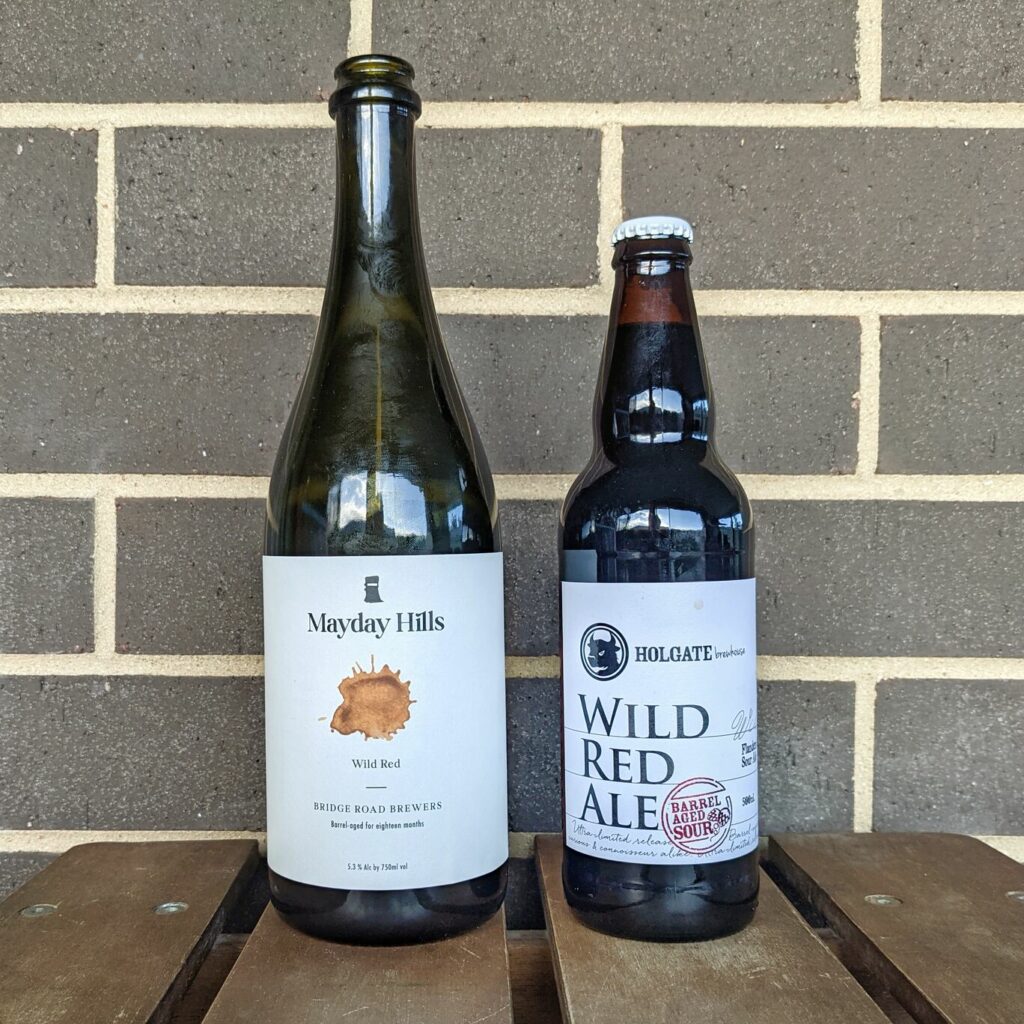 This highlights the challenges around packaging decisions for any beer in today's market. Choosing for a niche-within-a-niche style such as these must be a difficult line to walk, with many considerations and options.
Limited release, complex, nuanced beers can be targeted at the restaurant market, as something that compliments the dining experience. To stand out among its grape-based competitors, a beer needs a similar appeal and prestige. It is slowly changing, but there's still a stigma associated with all canned beverages, not just beer, among mainstream consumers. Restaurants are understandably reluctant to stock them.
But there's also accessibility by the beer community to consider. The promiscuous 'ticker' culture cultivated by beer rating websites, lends itself to single unit purchases. For these consumers, ~$7 is much easier to justify for the privilege of a 330ml sample, than upwards of $30 for much more. I myself may have tried the Mayday Hills Apricot had it not been so expensive.
The change could also be practical. With Bridge Road moving its core range to cans, the small bottles may not be as ubiquitous as they once were.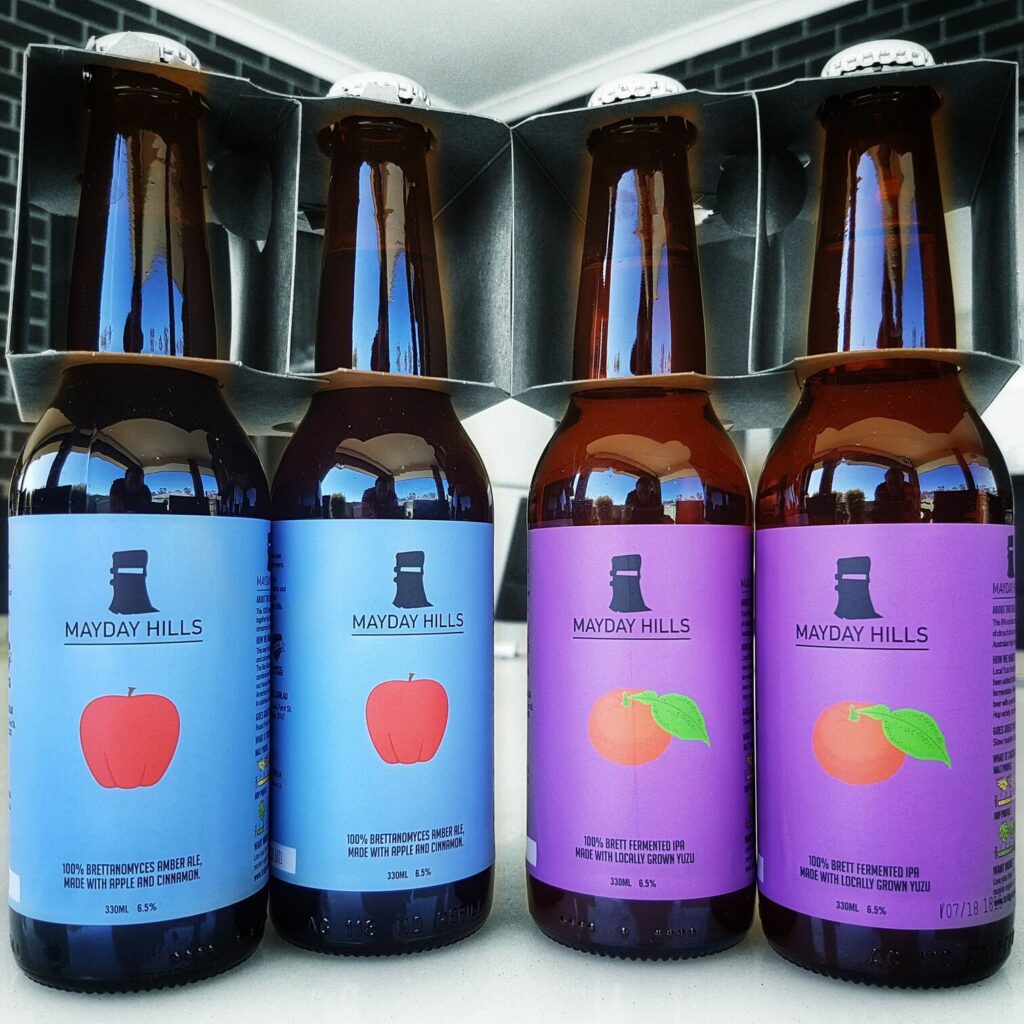 I discussed these factors with Dr Sammartino. He explained, "I'm sure there are positives and negatives on each front. The higher price (and larger size) may scare off some buyers who would experiment with a single smaller-format bottle, and it is harder to squeeze this onto bottle shop shelves."
"But, at the same time, not being in that very competitive category may send a stronger signal to those consumers who are after the special occasion beer, or are building up a beer cellar."
"The big bottle category is certainly more niche, and with fewer sours versus imperial stouts. Consumers at that end may be somewhat less price sensitive. Indeed, we know from wine markets that there can be a somewhat paradoxical price signal in play where consumers see the fancier format and higher price as indicative of quality."
For Ben Kraus and the team at Bridge Road, the decision was a practical one. Ben told me, "I feel the large format is a little about the prestige, but I also feel the large bottle really fits the style of release in this case. This release is quite complex and I feel the 750ml format gives the drinker either a chance to share, or to delve into the complexity of the beer and enjoy the changes as the temperature rises."
"I think the higher price and format actually puts this kind of beer into the hands of someone who is more likely to consider the complexities and subtlety that we have mostly put forward in the Mayday Hills range."
Now go and find one
Wild Red reaffirms for me what I love about Bridge Road. Their primary motivation, to see their beer in the hands of those who appreciate it the most, is admirable.
There are many examples of breweries chasing trends and positioning their products for maximum appeal. But it could be said that some may have lost their way and others are simply in it for different reasons entirely.
I'm not suggesting Bridge Road don't incorporate these into their own strategy. But they don't seem to have lost focus on the things that made Bridge Road Brewers what it is and the drivers behind the growth of the Australian craft beer market.
One thing's for sure though, if you're the sort that likes to impress with the bottle you plonk on the table, Bridge Road's Wild Red will certainly fast track some beer envy from the room.