Local is very much in the spotlight right now. Most people recognise that many small businesses are at risk. There's increased sentiment to support operations which are owned, operated and staffed by our family, friends and neighbours; people from our local community.
Amidst the growth in grassroots support for local producers that's occurred in 2020, large corporate retailers have come out in support too. In Australian beer, this is perhaps most evident in BWS's Local Luvva campaign.
First impressions are that this campaign, and those like it, are helping many small independent breweries in their darkest hour. But are these corporate lifelines genuinely altruistic, or is it simply big retail chains seizing the opportunity to capitalise on public sentiment, and quickly incorporate it into their marketing strategy for their own gain?
Supermarkets to the rescue
In April 2020, Endeavour Drinks Group, parent company to Dan Murphy's and BWS, extended a lifeline to small breweries by adding almost 2000 new products to its range. The move was welcomed by industry groups, such as the Independent Brewers Association, Cider Australia and Australian Grape & Wine.
The following month, BWS launched Local Luvva. The campaign sought to highlight the provenance of many of the bottle shop's newly ranged products, as well as some of its existing lines, most of which are from independent breweries. Customers were encouraged to nominate their favourites, with the most popular winning a chance at becoming a permanent fixture in the bottle-shop chain. Notably, BWS also footed the bill for marketing, allowing the participating brands to focus on their own economic challenges.
The campaign has been met with some scepticism. Like big beer, the motives of big supermarket chains are frequently brought into question when they embark on philanthropic endeavours. But while evidence remains that big beer still gives with one hand while it takes with the other, there's evidence big supermarket chains might be more genuine in some of their actions. Unless of course they're taking on a small business in a trademark dispute.
I admit to having my own reservations about the altruism of the campaign, but even I have to concede a couple of points. Because while I normally advocate buying beer from an independent bottle shop, I'm not one to look a gift horse in the mouth. In some areas a supermarket bottle-shop is the only avenue to independent craft beer. The campaign also gives greater national exposure to the independent brands featured. I found it particularly warming the day I saw Stomping Ground prominently displayed on a billboard in regional Victoria as part of the campaign, a sight that would be unlikely otherwise.
Of course, BWS would have had little difficulty finding independent breweries willing to participate. Setting aside the normal allure of being ranged in a national chain, let's face it, the Australian economy, like most of the world, has taken a huge backwards step. Who in their right mind would say no to the opportunity right now?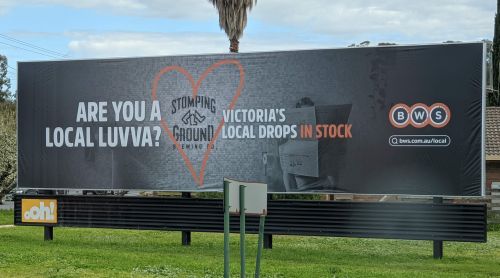 Craft, Independent and Local
Once upon a time, the word "craft" was firmly attached to small, artisanal, independently owned breweries. But with the success and growth of many of those producers, as well as the move to capitalise on the market by big beer and big supermarket chains, the term is becoming more and more meaningless.
The breweries who once rallied under the banner of "craft", gravitated to "independent" instead. The label is seen by most as being more immutable when compared to craft, even though it carries some of its own challenges.
One of the other defining features of craft was the premise of being local. Early craft breweries were small and primarily serviced their surrounding community. Many deeply defined by a sense of place, these breweries enabled customers to identify themselves by the beer they drank, and through it, proudly proclaim their support for the local community.
Much of the reservation about lauding a campaign such as BWS's, is in its prominent use of the word, local. Like many marketing buzzwords, defining it is not as simple as it first seems. Local can just as easily refer to something produced in your own town, as it can your own country.
For example, at a BWS near me, one of the beers included in Local Luvva is Ballistic's Hawaiian Haze. I've always been fond of Ballistic, but living in regional Victoria, I don't consider them local by any means. And perhaps more notably, I couldn't see any beer in the fridge from the handful of breweries within 100 kilometres of the store.
Local is subjective. What it does effectively, however, is communicate with consumers on an emotional level. It's worth noting that independence is mentioned in some of the marketing material for the Local Luvva campaign, but it's very much on the periphery and probably only of interest to those who really care about it.
It could have been called the Indie Luvva campaign, since that's what many of the featured beers are. And I'd have far less of an issue had it been called this. I'd still be disappointed the local breweries in my area were absent, but I wouldn't be so cynical about it.
The problem for BWS if they play up the independence angle by pushing it to the fore, is the risk of sparking curiosity among people who don't know what it is. This could lead to the realisation that many of the beers alongside the independent brands, that look, feel and have similar stories to them, are in fact, not the same. I'm sure they don't want to paint their other products in a negative light. After all, most can be considered local in one form or another. Just not independent.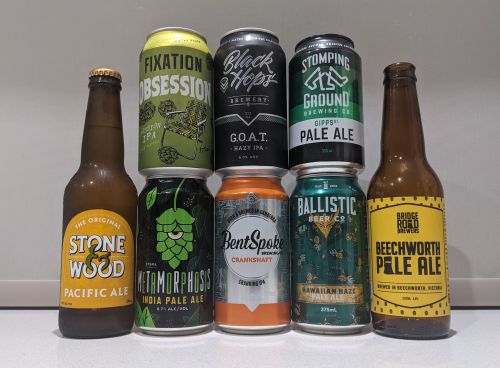 New lines
Right from the beginning I was curious about which indie breweries were getting a look-in for the Local Luvva campaign. I've called into the bottle shop on more than a few occasions to check it out. (I'm feeling less and less ashamed about leaving a bottle shop these days without buying anything).
Dainton Blood Orange NEIPA, Black Hops GOAT, Kaiju Metamorphosis and the aforementioned beer from Ballistic, admittedly were beers I hadn't seen in BWS before. It was indeed encouraging. However, there were other beers I'd never seen there before, or anywhere else for that matter.
In addition to the familiar craft brands produced by CUB and Lion, new brands, usually produced under contract for the supermarket chains, are finding their way into the craft beer fridges. Most Australians would be familiar with the lines of regular supermarket products produced by Black & Gold and Homebrand. Like them, these beers, cater to a specific price point. One that they might argue does not pit them against the independent brewery brands.
Independent craft has traditionally been priced towards the premium end of the market. However, recent entries to the more price conservative space, like Otherside's Plan: C and Ballistic's Brewunity, as well as established brands like Hawkers Rover, are challenging that. The former were pivots made in response to the COVID-19 pandemic, yes. But they're all evidence that despite widely held belief to the contrary, independent craft can reach a price which appeals to a budget conscious consumer.
Who owns my beer?
Back in 2017 I took a photograph of the craft beer fridges of a local supermarket. A relatively new, but passionate indie supporter, I had grand ideas to make a regular feature of analysing the number of independent craft beer brands in stock. An education piece that would simplify the incursion of "faux craft" by showing the percentage of independent craft beer brands in stock.
For a number of reasons my idea never got off the ground. Time was a big factor, but also, even though I was admittedly more militant about independence then, I was beginning to realise that the case for indie beer is much more nuanced and complicated than most advocates will admit. I believe it's still a valid one, but at the time, I concluded that I didn't have the perspective, understanding or experience to prosecute it. So Who Owns My Beer was put on the shelf.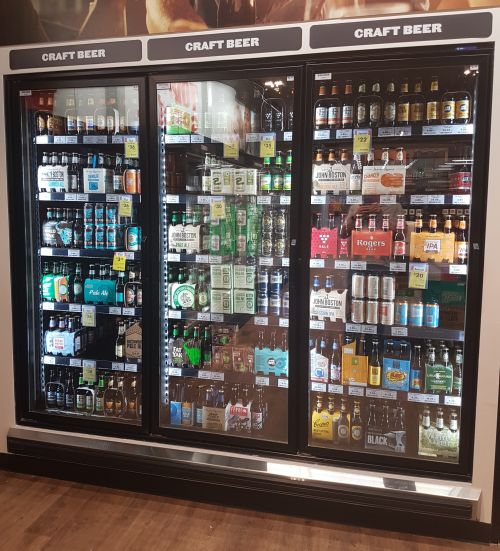 Analysis
I think my idea around, "who owns my beer?" still has merit though. Perhaps now in particular, as "local" is being touted so virtuously by large corporations, it's worth taking a look at just how many independent brands are sitting on the shelves among the others. I visited a BWS in regional Victoria and had a look. I also dug up my analysis from 2017.
I confess that the comparison I've made involves two different BWS stores in different regional Victorian cities. I'd prefer to have compared the same store, but it wasn't possible at the time of writing. Trust me when I say I have a penchant for walking into bottle shops just for a look. I've been in enough to be confident that any difference will be negligible.
Of the 63 beer lines in the Craft Beer fridge, 33 (52.3%) were from independently owned breweries*. Admittedly, this was higher than I expected. My analysis from 2017 showed 20 out of 52 (38.5%).
35 distinct brands were represented from 26 different breweries. Beer from CCA, Asahi, CUB, Lion Nathan and those made for the supermarkets, take up just under 40%. In 2017 it was 53.8%.
Notably, beers from craft families Fermentum, Tribe and Mighty Craft (formerly Founders First) made up 15.8%. Of course, the latter two did not exist in 2017, but it's interesting how quickly they've established a presence in the large chains.
When you consider that CUB and Lion products account for around 80% of the overall beer market in Australia, it's easy to dismiss their large presence here. But remember, this is the Craft Beer fridge only. Big beer's major brands are located elsewhere in the bottle shop.
Unlike many of their mainstream beer brands, the big beer and supermarket craft beers carry little to no branding or identification from their parent companies. The appearance of their packaging is such that they sit very comfortably alongside beer made by independent brewers.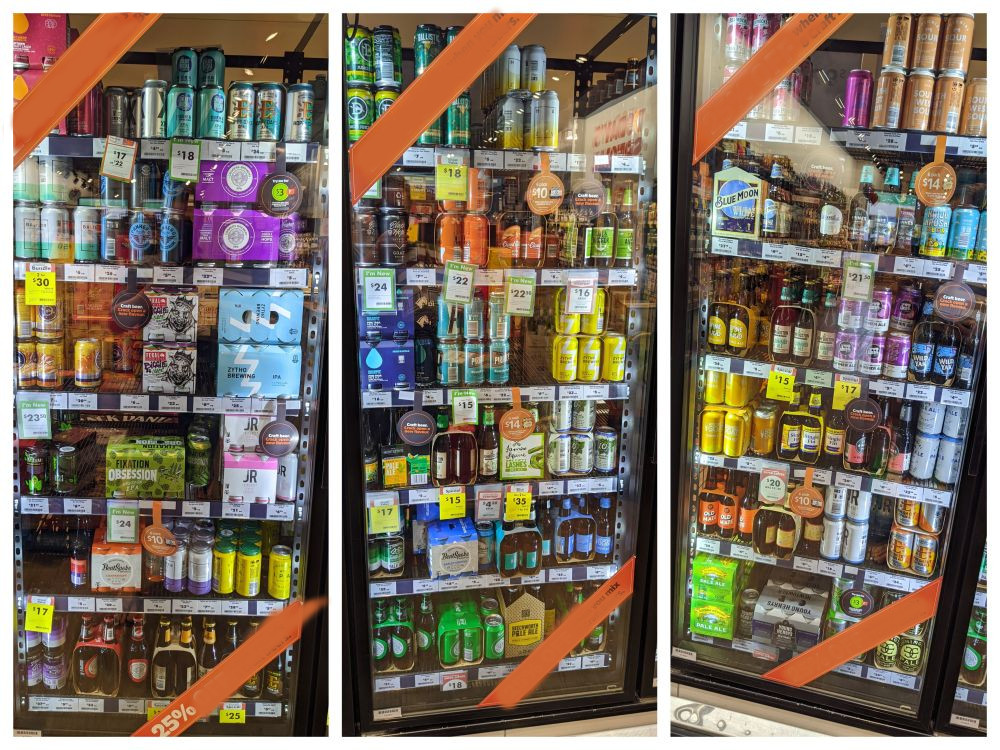 What's it all mean?
Obviously, I did no comparison immediately before Local Luvva was launched. It's possible the number of beers from independent craft breweries has increased as a result, but keep in mind the overall growth of the independent craft sector.
Some may accuse me of nitpicking. And like always, they'd be right on some level. Indie beer's presence has grown and who cares whether they used the word local, indie or craft. Can't I be grateful the big guys have helped independent breweries endure the impacts of Covid?
But I feel there's a much bigger issue here. Using local so loosely risks eroding the integrity of the message. That's a problem for anyone who'd seek to use it more genuinely, such as The Crafty Pint with their Keeping Local Alive campaign. I'd argue that they, and a small number of other causes, seek to use local much more specifically and more selflessly.
Endeavour Drinks, BWS's parent company, hasn't fared poorly off the back of strategies focused on local suppliers. Coles has also reported a recent rise in revenue as well as stocking around 100 additional suppliers. Their assistance has come at little cost to themselves.
Whilst the word may be different and not as easily defined as independent, the corporate campaign for "local" knows only too well the sentiment it's tapping into. One that has a similar connection to independence, without being it. The feeling of pride that someone feels when they're supporting their community. Like you're doing your part to save local producers from economic armageddon.
Indie beer has been extended some lifelines during the pandemic, but the longer term challenges aren't going away. Some might even say they're growing. In addition to the increasingly crowded indie beer market, the wider craft beer segment is also experiencing growth. It's now muddied by even more corporate craft brands with a new, "local" angle to appeal to community conscious consumers. Over time, "local" could become less meaningful.
Encouraging consumers to support independence requires inspiration and education. Keeping local alive is important right now, but it's going to take a lot more work to get the right message across.
Very special thanks to Brews News journalist Clare Burnett. Almost all of the linked articles in this piece were written by her.