Soon we'll count down the GABS Hottest 100 Australian craft beers of 2022. Could we have a new number one in Better Beer or Larry? Which beers will rise and fall? Can Sunshine Coast assert its claim as Australia's new top destination for craft beer by polling even more beers? Here are some predictions.
Voting has closed. On Saturday, the 28th of January 2023, the countdown for the GABS Hottest 100 Craft Beers of 2022 will begin.
2022 was a quieter year for craft beer in Australia. There were no buyouts by big corporate breweries and no breakout breweries making big waves. The industry appears to be stabilising as it matures.
Covid 19 continued to challenge the industry, with 2022 being particularly difficult for hospitality. The trend of endless, limited-release beers brought on by the pandemic's impact has also slowed.
There was some stability in the H100 in recent years, but it always brings a few surprises. Moreover, the unique events of 2022 could make results difficult to predict.
The Contenders
This year my research has been deeper than ever before. Analysis shows approximately 310 breweries have registered over 2000 beers for voting.
The number of beers nominated by each brewery differs wildly. Many have entered only one, which suggests a strategy to consolidate votes with a single champion. Others have entered nearly their entire 2022 list, with one brewery entering 86 beers.
How states perform in the H100 is always a topic of discussion, so the number of breweries registered from each is a consideration. This year, breweries from New South Wales and Victoria account for over half, each having more breweries registered than the combined number of all other states except Queensland.
Queensland breweries have polled increasingly well over the past few years. How they perform will be significant considering what's been marshalled by the other east coast states.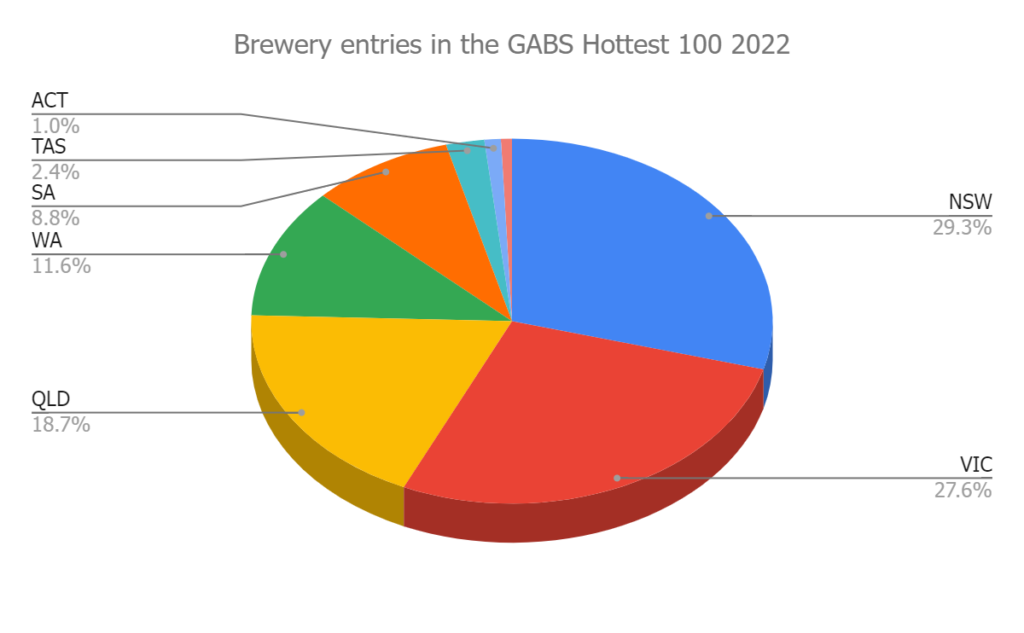 Predictions
So, once again, with a mountain of numbers behind me, a bunch of observations and a healthy dose of gut instinct, I'll share my thoughts and predictions for the GABS Hottest 100 Craft Beers of 2022.
As mentioned, the states will be interesting to watch. Queensland is likely to be as strong, if not stronger, with the continued growth of craft beer in the Sunshine Coast in particular (more on that later).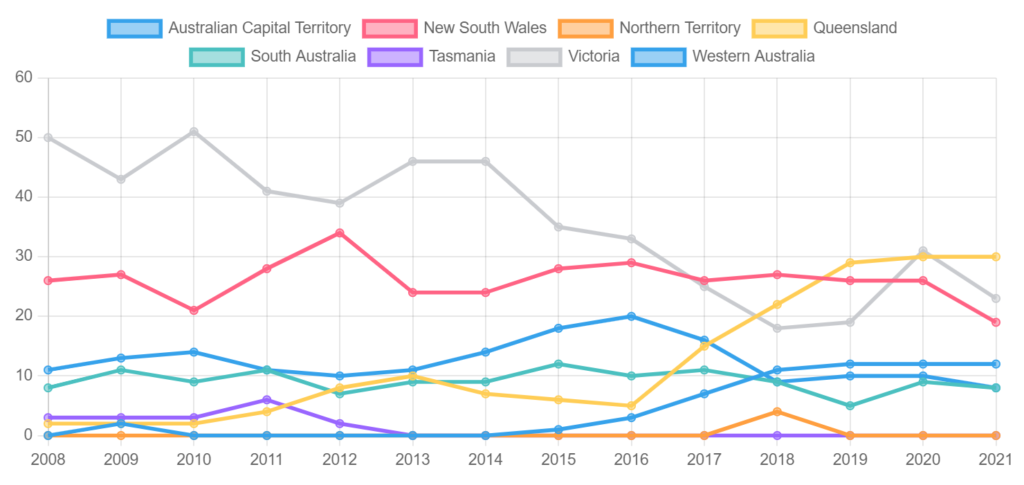 Pale Ales and IPAs should remain dominant. They, and all the sub-styles under them, make up the bulk of the H100 results.
Sour beer's general rise in popularity in the past three to four years has not transferred to the H100. Revel Brewing Co's Strawberries & Cream Sour Ale (39) was the only sour to crack the top 50 in 2021. Others were few and far behind.
Lagers made some headway in the 2021 poll, with the Debut of Hop Nation's hyped German Pilsner, Rattenhund (76), signalling the rise of craft lagers. But it was very much in the wake of workhorse lagers like Heads Of Noosa Brewing Co's Japanese Lager(21), Bright Brewing Co's Alpine Lager (32) and Burleigh Big Head (57). All three have improved their positions.
In mid-2022, CUB made a concerted push for wheat ales through a number of their brands, but I'd be surprised if any rank in the poll. Wheat ales seem to perform better when people don't know that's what they are.
Last year I assumed all breweries and beers from that year were eligible. While that's true, breweries do need to register. So this year, all of my predictions are verified.
In no particular order, let's take a look.
Status Quo Pale Ale
Brewer DJ McCready was something of a Rockstar Brewer as far back as 2015 when he made beer at Modus Operandi. He created the brewery's only top-ten beer, the Red IPA, Former Tennant (2015:9, 2016 9).
Circa 2017, having departed Modus, DJ and his wife Harriet started their own operation in the Blue Mountains. The brewery needs little in the way of introduction. Mountain Culture is referenced frequently alongside hype breweries like Range, Deeds and Banks.
2022 is the first year Mountain Culture has registered beers for voting. I speculated big things last year, foolishly failing to check if it was a contender.
I predict four debuts for the brewery in this year's poll. Be Kind Rewind is recognised internationally on Untappd in the top 10 of NEIPAs worldwide, and the Oat Cream IPA, Hill People, has won over haze lovers all over Australia. I expect both will take places between 50 and 30.
Cult IPA and Status Quo have national ranging through BWS and Dan Murphy's. This reach and heavy campaigning from the brewery should put them in the top 20. Status Quo could even crack the top ten.
Colossal Brewing and Zytho (Pinnacle Drinks)
Endeavour Drinks Group (EDG) was once the retail liquor section of Woolworths. It demerged from the parent company in 2021. EDG owns Dan Murphy's, BWS, Jimmy Brings and Cellar Masters, among others. It also owns Pinnacle Drinks, which contracts private-label beverages from established wineries and distilleries.
Pinnacle Drinks brands, such as Colossal Brewing and Zytho Brewing, have become more prominent in BWS and Dan Murphy's. The number of products under each brand is growing, as is their popularity. As a result, they are appearing on social media accounts and online groups of many Australian craft beer lovers.
Last year I predicted the appearance of a Pinnacle Drinks beer in the H100. But, as I did with Mountain Culture, I should have checked if the brands were registered.
This year, that's not the case. Beers from both Zytho Brewing and Colossal Brewing were available to vote. I'm confident they'll make an appearance.
Hopmosphere and Mind Harvest will poll somewhere between 60 and 40, with others possibly further down the list.
Coopers Orignal Pale Ale
I'm not sure if it's just my social media feed, but Coopers appear to be campaigning heavily. Their social media strategy includes paid, targeted advertising, as well as organic.
Cooper's performance in the H100 is sketchy. For example, Cooper's Original Pale Ale has been in the top 30 for 11 of the 15 years since the poll began, but was absent from the H100 in 2016 and 2017 and reached only 75 in 2020.
However, last year was arguably one of the best for Cooper's. From 2020 to 2021, their beers rose an average of 78 places, and Coopers Original Pale Ale reached 11th place.
The largest independent brewery in the country, Cooper's could push its pale ale into the top 10 for the first time since 2008.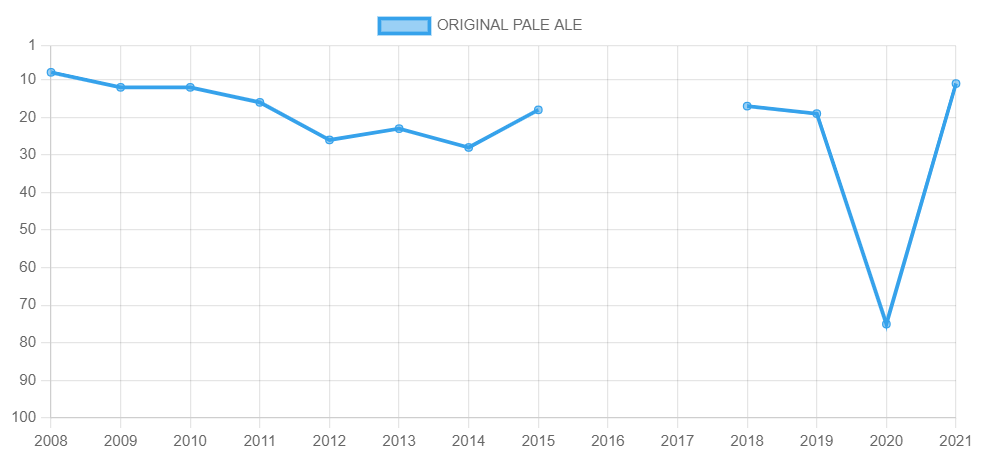 Beechworth Pale Ale
Bridge Road Brewer's flagship beer is a curious one. It's been in the poll since the beginning, has been the best-performing Victorian beer for the last few years and is a champion of Indie beer. Bridge Road Brewers has seen more beers in the poll than any other brewery (61).
But Beechy Pale has drifted a bit. In 2021 It dropped out of the top ten for the first time in four years and was the only beer from the brewery in the H100. It's stablemate, Bling, which polled better than Beechy Pale in the earlier years, dropped out of the H100 for the first time since the H100 began.
Bridge Road can muster support for Beechy Pale again, but will it be enough to get back in the top 10? Despite solid support from Bridge Road fans, newer beers will keep it out. Nevertheless, it will retain a position between 20 and 10.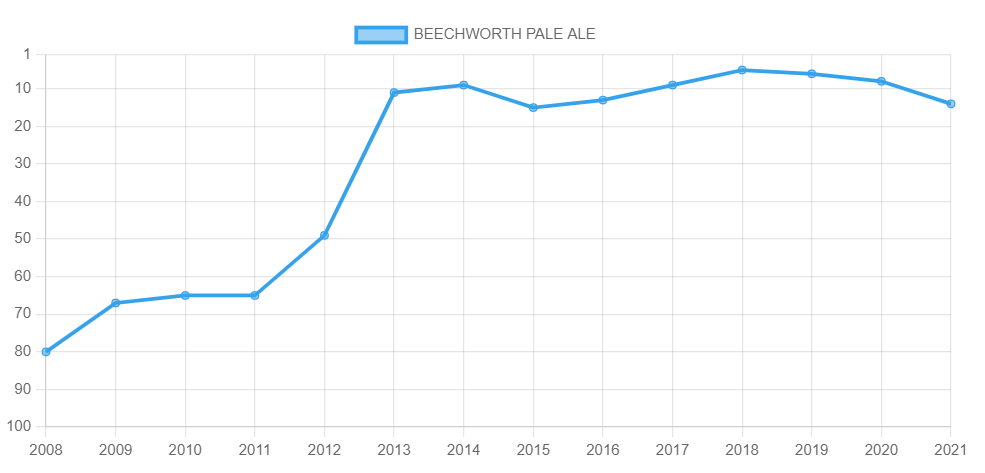 Stone & Wood Pacific Ale
Lion's acquisition of Stone & Wood created quite a stir in 2021. Many anticipated a sharp decline for the brewery's beers in the H100 rankings.
Post-sale, Pirate Life's beers in the H100 dropped by an average of 45 positions, and the number of beers featured went from 7 to 4. But in the 2020 poll, Balter's beers only dropped an average of 3-4 positions. The number of beers exiting was the same (8 to 5).
Pacific Ale dropped just two places in 2021. It was the only non-podium finish the beer had ever seen, but the decline is likely to continue.
Will it drop out of the top ten for the first time since entering the poll in 2009 as Draught Ale? I doubt it.
Somewhere between 10 and 5 for Pac Ale.
Larry
Larry's creator, Your Mates, is probably one of the most endearing stories in recent H100 polls. The beer debuted at number 13 in 2018 and met many a sideways look. Flanked by Donnie, Macca, Sally and Eddie, it continued to rise in the following years and reached the podium in 2021.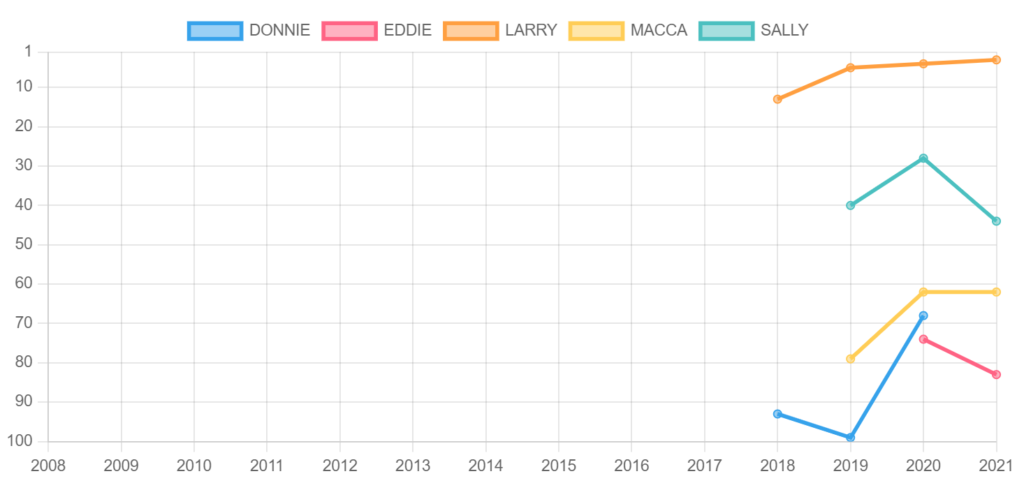 Your Mates is an example of how far a brewery can get by engaging its community and building strong support. They're expanding their production brewery and are opening a bowls club, or 'BowlsPub. According to data provided for their successful equity crowdfunding campaign, they've gone from producing 50,000 litres of beer per year to 750,000.
"You just need a lot of email addresses" was a comment made to me once about Larry's performance in the H100. So to those people, I say, "$2.5M in a day."
Continued growth and support for the brewery make Larry a serious contender for number one. Bentspoke has generated similar support for Crankshaft in recent years, but I'd argue it has peaked, where Your Mates has not.
There's only one stumbling block for Larry in its ascent to glory…
Better Beer
The low-carb lager, Better Beer, debuted at number six in the 2021 H100. At the time of voting, it had been on the market for less than three months.
Brewed under contract at Casella Family Brands owned brewery, Australian Beer Co, the brand has been a runaway success. The brand is a collaboration between social media influencers, The Inspired Unemployed and Torquay Beverage Company. The latter of which is part-owned by craft beer incubator Mighty Craft.
In September 2022, Mighty Craft reported 4.3 million litres of Better Beer had been sold, with a target of 10 million by the end of the 2023 financial year. The brand has grown to include a zero-alcohol offering and a ginger beer.
Whilst some of its success has been attributed to its social media owners, there's little doubt Better Beer is something of a Unicorn, a rare combination of the right elements and a case of the right time and place. Its success has been compared to that of Pacific Ale and Great Northern. But where those brands took time to grow and gain popularity, Better Beer's success happened overnight.
In what's likely to be the most controversial H100 result ever, Better Beer is expected to take the number one position.
Moffs Summer Ale
The list of accolades for Moffat Beach Brewing Co is far too long to include here. The 2022 AIBA Champion Small Brewery.
Moffs Summer Ale was champion IPA at the 2022 Indies, won a Gold Medal at the 2022 AIBAs and has a slew of other medals atop its mantelpiece.
I was fortunate enough to find some here in Central Victoria recently. I can say that those awards are well deserved.
The risk for Moffat Beach is the number of beers they've entered. Fifteen could dilute votes for the brewery overall. Compared to the number of beers entered by top breweries like Your Mates(7) and Bentspoke(5), this doesn't indicate a concerted strategy for the H100. Judging from social media, the brewery is not championing any particular beer. For them, it appears the H100 is nothing more than a fun event they want to celebrate and are happy to be part of.
Still, Moffs Summer Ale should score a place above 50, but I'd be surprised to see any more than two of its stablemates in the rest of the poll.
Sunshine Coast
Having mentioned Moffat Beach Brewing Co and Your Mates, it's worth looking at the region from which they hail.
Queensland beer has grown more prevalent in the H100. Breweries like Black Hops, Balter, Ballistic and Your Mates have pushed the state to the top of the leaderboard.
In 2022, Sunshine Coast proclaimed itself Australia's Craft Beer Capital. Local government and tourism bodies are on board, and the region has sights set on attracting craft beer lovers from as far as the US and New Zealand.
Breweries from the region account for just under 22% of all Queensland breweries registered for voting. Of those twelve, seven have beers that polled in 2021.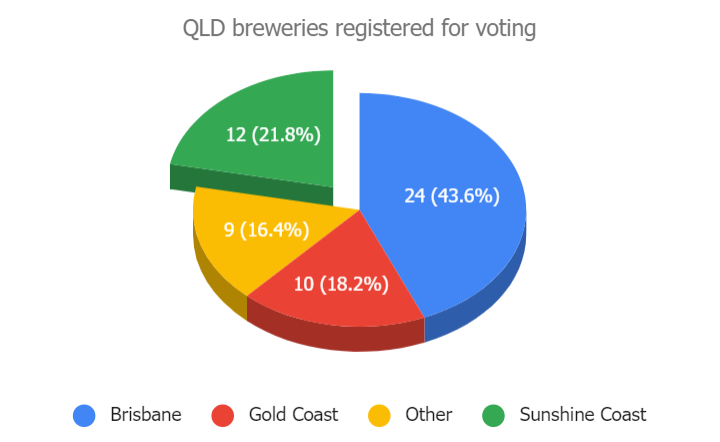 10 Toes, Brouhaha, Blackflag, Eumundi, Heads of Noosa, Sunshine Coast Brewery and Your Mates are likely to improve thier standing in the poll and are sure to be joined by Moffat Beach Brewing Co.
White Bay Lager
My outsider prediction for 2022.
White Bay Beer Co opened in 2020 on the banks of Sydney Harbor in Balmain. Run by a crew of brewing industry veterans, it appears to have done no campaigning for the 2022 H100.
But their beer demands attention. White Bay Lager was crowned champion beer at the 2022 Indies. Their beers were highlights of the 2022 GABS Festival.
I hope this award-winning beer can ride the newfound appreciation for quality lagers and take a place in the H100. Conservatively, I'm saying between 80 and 60, but I'm hoping for much better.
Juicy Banger
Blackman's hoppy lager, Juicy Banger, has performed reasonably consistently since entering the H100 in 2017, having dropped out only once. It achieved its highest position in 2021. (2021:73, 2020:82, 2019:127, 2018:80, 2017:82)
But the brewery is now unrestricted by a small brewhouse in Torquay. With a larger brewery in Geelong, it can realise its full potential. The 2019 AIBA Champion Small Brewery can now step up.
Juicy Banger is being championed by Blackman's. It's also one of only five beers registered for voting. It doesn't look like they've entered the H100 on a whim.
Juicy banger for a place between 50 and 40.
Newtowner and Krush
Newtowner and Krush entered the top ten of the H100 in 2017 at 4 and 10, respectively. Both maintained a place in the top ten for the next two years, but Krush dropped to 11 in 2020. Despite being the number 4 beer for three years in a row (2017, 2018, 2019), Newtowner is on the decline too. It narrowly maintained a top-ten place in 2021(10)
Whilst Young Henry's is doing admirable things in the sustainability space, the beer seems to have drifted from the limelight. Its position in the H100 often perplexed those outside NSW, where much of its support likely comes from. A beer I frequently saw in BWS stores here in Victoria, Newtowner has been sidelined by newer brands and in-store lines.
It's a similar story for Kaiju's Krush. But in addition to less prominent positioning in the major retailers, faux craft lines are mimicking its branding and diluting that which distinguished it. Affordable, tropical pale ales are commonplace in the market, making Kaiju Krush's position even more tenuous.
National ranging in the majors is often a critical factor in the H100. Reports from the retail industry indicate major bottle shop chains are moving away from national brands in favour of appealing to customers along state-based lines. Continued decline is likely for Krush and Newtowner.
Krush will drop out of the top 20 this year. Newtowner may keep a firmer grip, but won't be in the top ten.
And so many more…
There's much more I could have looked into; will Hawaiian Haze drop out of the top ten, has Dainton's Blood Orange NEIPA had its day, will we see more zero-alc and ginger beers and can my favourite under(spotty)dog crack the H100?
The GABS Hottest 100 is likely to see growth again this year, so really, anything can happen. Good luck to all participating!
I'll be tuning into the live podcast and providing stats via the group chat.
If you're interested in following along with my charts and stats, let me know. I'll share them on Twitter, Facebook or Instagram.
Maybe I'll even give some access to the GABS Stats website.